Dear Bobcat parent and family members,
With spring break next week and our students traveling worldwide, I thought I'd share some vacation safety tips for you to pass on. There are some helpful reminders in this article, "11 Spring Break Safety Tips for College Students," on the Collegiate Parent website. If they plan to travel abroad for the break, students can verify COVID-related restrictions and requirements for the U.S. and other countries by visiting the CDC's International Travel website. The CDC also has a webpage with tips specifically for Spring Break Travel.
Spring break also means we have less than two months before Spring 2023 Commencement. We hope you will join us for the ceremony on Friday, May 12, at the Brick Breeden Fieldhouse. The 9 a.m. ceremony will recognize students from the Norm Asbjornson College of Engineering, Jake Jabs College of Business & Entrepreneurship, College of Arts and Architecture, and College of Education, Health and Human Development. The 1:30 p.m. ceremony will recognize students graduating from the Mark and Robyn Jones College of Nursing, College of Letters and Science, College of Agriculture and Gallatin College.
Commencement RSVP opens today, March 7. Please remind your Bobcat to RSVP and indicate the number of guests they would like to attend so that we can ensure there is seating for everyone. (Graduate candidates have been sent an email with the RSVP link.) MSU does not require tickets for guest admission to the ceremony.
For those unable to attend in person, both ceremonies will be livestreamed. A link to the ceremony livestream will be activated on the Commencement website Friday, May 12. Please check the Commencement website regularly for the most up-to-date information.
By now, you know that the midway point of the semester is a good time to check in with your student about how they're managing their class load. The pressure may be more intense this final term, so a little reassurance could go a long way. As always, our Allen Yarnell Center for Student Success (AYCSS) team is available to connect students with the resources and information they need. Please encourage your student to reach out if they require academic support. We want to ensure that our graduating students finish strong!
If your student is coming home or remaining in Bozeman for spring break, they might consider getting a jump on searching for that post-graduation internship or job. It's the perfect time to work on their resume and apply for jobs. Does your student need help writing or revising a resume? If so, they can schedule a career coaching appointment through the CatTracks portal over the break (or after!) by calling the Allen Yarnell Center for Student Success at 406-994-4353 or visiting the AYCSS's Resume and Cover Letter Writing webpage.
Take care,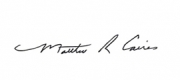 Matthew R. Caires
Dean of Students
P.S. Heads up to parents in the Seattle area: I will be in Woodinville on Thursday, April 6, at a reception hosted by the Bobcat Puget Sound Chapter. Click here for details and to register.