Dear Bobcat parent and family members,
What a great spring break! I hope you had a chance to spend time with your student this past week. If not, I trust their time away from campus was safe and rejuvenating. I spent most of my break at home with kids as a single dad. (My wife was out of state on a work trip.) We managed to get up to Bridger Bowl a handful of times, and my back is now paying the price. (Our three-year-old is learning to ski.)
The arrival of spring means that summer and fall course registration is right around the corner for continuing students. Priority registration begins March 27 and follows the Summer/Fall 2023 Registration Timetable. All current students may take advantage of priority registration, allowing them to select courses before new or transfer students may register.
The goal is for current students to be registered for summer and fall courses before April 13, when open registration begins. Students are more likely to get the classes they need and the schedule they want by registering during priority registration.
Before registering for summer or fall classes, though, all students must meet with their academic advisor. Your student can quickly look up the name of their academic advisor through their MyInfo account. Pro parent tip: Next time you visit with your student, ask them their advisor's name. If they don't know, encourage them to look them up and schedule a meeting. Students considering a change of major and students with general advising questions can call the Academic Advising Center at 406-994-3532 for additional information and help.
Speaking of scholarly activities, the arrival of spring also coincides with a variety of events to celebrate undergraduate research and creative activity. In 2022, MSU was again classified as an R1 university for its very high research activity, according to the Carnegie Classification of Institutions of Higher Education. Only 146 institutions in the nation received R1 classifications. Among them, MSU and Utah State University are the only two with an enrollment profile of "very high undergraduate."
MSU is well known for its engagement of undergraduate students in research. This means that undergraduate students at MSU have unparalleled access to research opportunities and can participate in research projects that would only be available to graduate students at other institutions.
The MSU Student Research Celebration is scheduled for Thursday, April 27. The Undergraduate Scholar's Program sponsors the event and invites students from all academic disciplines to present their research and creative projects to the MSU community. For students not yet engaged in a project, the event is a great way to learn through their peers about the variety of research activities they could pursue. In addition, it's an excellent opportunity for students to gain experience with public speaking, delivering presentations and articulating scholarly activities.
Many departments also hold research celebrations or colloquiums. You might ask your student if the department affiliated with their major hosts one of these events and encourage them to attend and participate.
Finally, many of you are probably starting to think about your student's return home at the end of the spring semester. If your student is flying home, ask them to find out the specific timing of each of their finals before you purchase plane flights. Professors will not reschedule final exams for a student to catch a flight home. The Registrar's Office has posted more information on its webpage devoted to Spring 2023 Final Week Schedule.
Happy start to spring,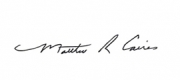 Matthew R. Caires
Dean of Students
P.S. I am so proud of our First-Generation Students Association for sponsoring a series of workshops on Friday, March 31. Topics include self-esteem and mental health, nutrition and support for resumes and cover letters. Students can register for the workshops at this link.