Dear Bobcat parent and family members,
Well, your student has made it through another semester -- and so have you. And your student is now one big step closer to their goal of earning a college degree! We're very proud of them for their hard work, resilience and determination throughout the school year -- another year filled with a variety of challenges.
As of tonight, most students are halfway through their finals. With every passing day, we see more vehicles stuffed with belongings as they depart campus for summer adventures. Not all are headed out, though; many students will attend the summer session, which begins May 16.
If your student is in Bozeman for the summer, they might be interested in a campus job. MSU is hiring students in many areas, including Event Services, University Student Housing, Culinary Services and ResNet computer services. Students can visit the Come Work With Us website to learn more about these positions and apply. If I were a student these days, I would be most interested in the openings for Bobcat Summer Youth Camp program leaders and camp counselors.
Students can also check out HireABobcat.com to find work-study jobs, internships, part-time employment and post-graduation positions. Hire-A-Bobcat uses the Handshake platform to connect students with on- and off-campus employers.
If your student will be in Bozeman for the summer and is struggling with food insecurity, please remind them that they have access to the Bounty of the Bridgers food pantry. The pantry is a student-driven initiative offering supplemental and emergency food assistance to any student, faculty or staff in need. For more information, visit the Bounty of the Bridgers website.
Finally, just a reminder that the Spring 2022 Commencement ceremonies are scheduled for Friday, May 13, at 9 a.m. and 1:30 p.m. MDT. Details about commencement, including more information about the morning and afternoon ceremonies, are available at montana.edu/commencement. The ceremonies will be livestreamed, and a link will be posted Friday morning on the MSU homepage.
I hope these emails continue to keep you informed and even a little inspired about student life at MSU, with a bit of humor thrown in. It's a team effort to write these emails with members of my staff and the MSU Alumni Foundation behind the scenes.
Thank you for taking the time to read my messages and for being our partner in student success. I appreciate the responses -- keep your questions, concerns, thoughts and suggestions coming next semester!
I'm signing off for the summer, but I'll be back in touch if something comes up that I think you'll want to know about or might find intriguing before August.
Here's to a summer filled with adventures,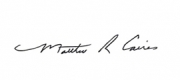 Matthew R. Caires
Dean of Students