Dear Bobcat parent and family members,
Well, we've made it to finals' week. And I have to say, it has been quite a year. With the patience and flexibility of your student, we have made it through this first-round of challenges that the coronavirus pandemic has dealt us. In true Bobcat fashion, with grit and determination, we have pulled together and persevered as a community of learners and leaders.
This will be my final "regular" email to you this academic year. However, when there is new information that will have an impact on your student's experience at MSU during the summer or fall semester of 2020, you can bet that we'll be back in touch with updates.
Last Friday, Provost Mokwa reminded our students that courses during the first summer session will be offered online and remotely. Later this summer, MSU will offer a limited number of in-person courses beginning June 15 and 29. We're actively taking precautionary measures to protect everyone's safety in classrooms and campus offices through observance of appropriate social distancing. Taking one or two classes this summer is a strategy your student could consider to stay on track and to graduate in four years. You can read more about academic offerings available this summer online.
As a reminder, Governor Bullock's 14-day quarantine stipulation for anyone traveling to Montana from out of state is still in effect. We recognize the challenges this quarantine poses for many students and parents living out of state and whose belongings remain in our residence halls. While the University must comply with the Governor's directive, we have provided various options on how personal belongings may be stored for the summer or until the quarantine has eased. Please contact Chancey Ringer and our Housing/Residence Life office at [email protected] for answers to questions about the current restrictions and options available.
There is more good news to report on the status of coronavirus in Montana -- no new cases of COVID-19 were reported in Gallatin County this past week. As you know, President Cruzado announced plans last week to gradually resume staffing and office operations on campus, as well as plans and contingencies to resume classroom teaching in Fall 2020. We're energized by a path forward that balances the health and wellbeing of our campus community, while getting back to work with what MSU does best, providing world class higher education based here in Bozeman, Montana.
In other good news, MSU, to date, has been able to provide assistance to nearly 300 current students in need of emergency financial support due to complications triggered by COVID-19. Please encourage your student to apply if they are in need, or if you are in a position to help other students, please consider making a donation to the Emergency Student Support Fund.
Congratulations to those of you will be celebrating graduation with your student this week! Each college has created a virtual celebration that you and your student can watch on Facebook Live. You can find the complete listing of weblinks and times for celebrations online.
Finally, I'll close by offering a simple "thank you." 2019-2020 has been an academic year filled with highs and lows. Through it all, I have enjoyed getting to know many of you over email and at our Parent & Family programs and events. As I said to many of you during Summer Orientation, "Our parents are our partners in student success" - your engagement with MSU helps facilitate the success of your student and enhances their college experience.
Thank you for reading our emails, discussing these topics with your student and encouraging them to engage with our programs and support services. I'm looking forward to hearing from you next fall as your student returns to Bozeman.
In blue and gold,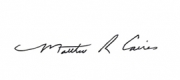 Matthew R. Caires
Dean of Students
P.S. For those parent and family members who have students that live off-campus: MSU has again developed a partnership with the City of Bozeman to pick up large and bulky items for students. Many students do not have access to a truck or other type of vehicle that can haul an old couch or mattress away. In order to help make the off-campus move-out process easier, students can request a one-time pick up of a large or bulky item and the City of Bozeman will haul it away, free of charge.