Dear Bobcat parent and family members,
Your student made it! They are about to graduate from MSU and begin the next significant chapter in their life. What a tremendous accomplishment -- congratulations to your student and to YOU!
While we'll miss having your student on campus, we're very proud of them for their hard work, resilience, and determination, especially during the past five semesters.
Much credit goes to you as a parent or family member. We know our students' resiliency over the past few years, and their achievements through their college careers are linked to the support and encouragement they receive from you.
As a reminder, the Spring 2022 Commencement ceremonies are scheduled for Friday, May 13, at 9 a.m. and 1:30 p.m. MDT. Details about commencement, including more information about the morning and afternoon ceremonies and ordering commencement photos, are available at montana.edu/commencement. In addition, the ceremonies will be live streamed for those unable to attend in person. A link will be activated on the commencement webpage to access the live stream on the morning of the ceremony and will be posted on the MSU homepage.
Tickets are not required for guest admission to the Spring 2022 Commencement ceremonies. However, we are requesting degree candidates to RSVP for the ceremony through the Commencement webpage to ensure we provide adequate seating on the main floor.
In addition to the commencement ceremonies, most colleges will have college celebrations. Please visit the College Celebrations webpage for detailed information about these events.
Don't forget to congratulate your MSU graduate via social media. Use #CatGrad22 on Twitter and Instagram for the opportunity to have your congratulatory message and photo displayed before and after MSU's commencement ceremony on the screens in the Brick Breeden Fieldhouse and online on the live stream.
The MSU "Proud Parent of a 2022 Graduate!" decals that will be available inside the fieldhouse and the yard signs outside the fieldhouse after the ceremony are free for families to take home. Thank you for supporting your student's choice to attend MSU and for contributing to our programs that benefit all students.
I hope these communications have kept you informed and even a little inspired about student life at MSU, with a bit of humor thrown in. It's a team effort to write these emails with members of my staff and the MSU Alumni Foundation behind the scenes.
Please accept my heartfelt thanks for taking the time to read our messages throughout your student's time at MSU and for being our partner in your student's success. I appreciate each of you who have responded with questions, concerns, thoughts and suggestions.
Although your student's time at MSU is ending, you and your graduate will always be part of the Bobcat Family.
You are welcome on campus anytime, and for those of you who live out of the area, I hope you will visit Bozeman and MSU in the future, perhaps during the annual Homecoming festivities. Regardless of the occasion, I hope you'll stop in and say "hi" whenever you find yourself near campus. I'd love to hear about what your student has been up to since graduating from MSU.
Again, my sincerest congratulations to you and your graduate on this genuinely significant milestone.
Take care,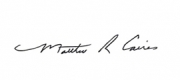 Matthew R. Caires
Dean of Students
P.S. In case your graduate doesn't have plans yet this summer, our Campus Recreation department is looking to hire camp counselors for the Bobcat Summer Youth Camps. It's a great way for your graduate to spend the summer in Bozeman in a fun position working mostly outdoors. For more information: https://www.montana.edu/getfit/facilities-and-staff.html