Dear Bobcat parent and family members,
Congratulations! Your student is about to become a Montana State University alum! Earning a university degree is a tremendous achievement, and I share your sense of pride in your student's accomplishment. Considering that most of their college career has coincided with the pandemic, their resilience and determination to persevere to graduation are truly impressive.
I'm so excited for our graduates and can't wait to see what they accomplish with their degrees while taking their next step into adulthood.
Thank you for being there for your student and being engaged with our work at MSU during the last four (or more) years. This is the sixth year we've been actively communicating with parents and family members, and I appreciate you reading our emails, writing back to me occasionally, and being our partner in student success.
As a reminder, Commencement is scheduled for Friday, May 12, in the Brick Breeden Fieldhouse. The 9 a.m. ceremony will recognize students from the following colleges: College of Arts and Architecture; College of Education, Health and Human Development; Norm Asbjornson College of Engineering; and Jake Jabs College of Business. The 1:30 p.m. ceremony will recognize students graduating from: College of Agriculture; Gallatin College; College of Letters and Science; and the Mark and Robyn Jones College of Nursing.
Details about the ceremonies, including degree candidate lineup times and locations, are available at montana.edu/commencement. In addition, Commencement will be livestreamed for those unable to attend in person. There will be a link on the Commencement webpage on the morning of the ceremony to access the livestream.
If you plan to attend the ceremonies in person, please note that all guests must pass through metal detectors to enter the Fieldhouse. To speed up entry, we request -- but don't require -- that graduates and guests leave their bags and purses in their vehicles. Also, please leave cellphones and keys in your pockets when going through the metal detectors.
Please ask your student if they have submitted a Commencement RSVP. Student submission of an RSVP (your Bobcat was emailed the RSVP link) greatly helps our Commencement planning team ensure accurate seating on the floor of the arena for our graduates. If you plan to attend in person, tickets are not required for guest admission.
And if you or other family members and friends want to congratulate your student via social media, use #CatGrad23 on Facebook and Instagram for the opportunity to have your congratulatory message and photo displayed before and after MSU's commencement ceremony on the screens in the Fieldhouse and online during the livestream.
Finally, most colleges and departments host celebrations for graduates and their families. These are a great way to kick off the celebratory festivities, meet some of your student's professors, and enjoy refreshments. Please visit the College Celebrations webpage to view the schedules and details.
Although your student's time at MSU is ending, you and your student will always be part of the Bobcat Family. You are welcome on campus anytime, and if you live out of the area, I hope you will visit Bozeman and MSU in the future, perhaps during the annual Homecoming festivities. Regardless of the occasion, please stop by and say hi whenever you find yourself in town. I'd love to hear about what your student has been up to since leaving MSU.
Again, my sincerest congratulations to you and your student on this significant milestone.
Warm regards,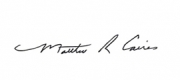 Matthew R. Caires
Dean of Students