Dear Bobcat parent and family members,
As we enter the final weeks of the semester, we want to make sure that students are taking good care of themselves and laying the groundwork for success during finals week. The end of the semester is typically a challenging time for students, and this year they are also dealing with stress related to the pandemic.
MSU Counseling and Psychological Services (CPS) has adjusted its services to respond to current stresses faced by students. As finals approach, please continue to check in with your student and encourage them to maintain their study routine and to seek help if they are struggling.
CPS has a webpage dedicated to addressing final exam stress that contains useful reminders and self-care recommendations. CPS has found that reaching out to community is an important part of managing stress, and they have developed drop-in Virtual Connection Spaces that are facilitated by a counselor for students seeking support from their peers. Finally, CPS's Let's Talk Drop-In Services are an opportunity for students to easily access a brief consultation with a counselor without initiating formal counseling.
Another facet of student life that can add stress is finding housing. Is your student thinking about moving off-campus? If so, then we have resources available for them and you. The Bobcat Parent & Family Program has partnered with MSU Residence Life and local property management and real estate companies to provide a webinar focused on moving off-campus. The webinar, which is scheduled for January 26 from 6 to 7 p.m., will address the pros and cons of moving off-campus and identify important aspects of moving into Bozeman's neighborhoods. This webinar will also help to explain MSU's resources for making the transition successful. Please mark this event on your calendar, and we'll send out a registration link for the webinar in future emails. In the meantime, you and your student can check out all of the resources and helpful information available on MSU's Off-Campus Livingwebsite.
As the winter break approaches, we have communicated with students on a number topics from safe travel precautions to long-term parking. On the latter, if your student is considering leaving a vehicle in Bozeman over the break, MSU provides free long-term parking in designated lots from Nov. 25 to Jan. 6. The designated lots are Bison Lot 26 and Bobcat Lot 18. Vehicles left in lots other than the designated long-term parking lots over the break may be towed at the owner's expense to facilitate snow removal. Call or email Parking Services with additional questions at 406-994-1723 or [email protected].
Finally, though the annual Brawl of the Wild football game has been rescheduled to March 27, the Can the Griz food drive is happening now through November 20. This friendly off-field competition between MSU and the University of Montana is now in its 21st year. Last year, MSU and Bobcat supporters in Bozeman and beyond donated 230,096 pounds of food and $206,550 to the Gallatin Valley Food Bank. UM supporters raised 213,438 pounds of food plus $208,421 for their food bank. Students can drop-off donations at a collection site on- or off-campus.
Many regards,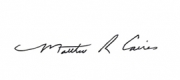 Matthew R. Caires
Dean of Students
P.S. You won't want to miss "2020 Yellowstone on My Mind" Wednesday, Nov. 18 from 7 to 8 p.m. MST, with MSU's internationally respected Earth scientist, Dr. Cathy Whitlock who studies past climate and environmental change. The virtual event will be held via Zoom and you must register in advance at msuaf.org/yellowstone.