Dear Bobcat parent and family members,
We've had the most incredible fall weather in Bozeman this year, with plentiful sunshine, cool nights and brilliant fall foliage. Well, that all changed this past weekend. We had over 12 inches of snow in my backyard, and my little girls were ecstatic on Sunday morning playing in it. If you don't like the weather in Montana, just give it five minutes.
Before I launch into important dates, deadlines and events for continuing students, I have a couple of things to share from the Office of the Registrar if your student is graduating this fall. First, they send their congratulations and hope you can join us for the commencement ceremony on Friday, Dec. 16, at the Brick Breeden Fieldhouse. Doors will open at 7:15 a.m., the processional will start at 8:40 a.m., and the ceremony will begin at 9:00 a.m. Student submission of an RSVP (your Bobcat received an email with the commencement RSVP link) greatly aids our Commencement Planning Team in ensuring accurate seating for our graduates and guests.
For parents and family members of continuing students: The Cat Scholarships application portal for MSU-based scholarships opens on Nov. 1. This is an easily accessed portal to manage general and college-specific applications for most scholarships at MSU. The advantage of using Cat Scholarships is that students don't have to search for scholarships. Instead, by completing the application, the system guides students to opportunities for which they're eligible. Feb. 1 is the priority application deadline for most scholarships in the Cat Scholarships system.
As I mentioned in my last message, the Free Application for Federal Student Aid (FAFSA) application opened on Oct. 1 for the 2023-24 academic year. We advise students to apply by MSU's priority date, Dec. 1, to take advantage of favorable financial aid package opportunities.
For current and continuing students, priority registration for the spring semester began yesterday, Oct. 24, and runs through Nov. 9. MSU grants all current students priority registration, allowing them first choice of courses before new or transfer students may register. By registering during priority registration, students are more likely to get the courses they need and the schedule they want. We encourage all students to be registered for the spring semester by Thanksgiving.
Some homework for you: Ask your student if they have connected with their academic advisor. If the answer is no, encourage them to reach out to their advisor to schedule an advising session as soon as possible. Advisors work with students to craft an academic plan suited to their personal and career goals and ensure they're on track to graduate in a timely manner. Students must receive a registration PIN from their advisor to register.
Detailed registration information, including the spring 2023 registration timetable and the four steps in the registration process, can be found on the Office of the Registrar's registration process webpage.
As I mentioned, our first major winter storm hit over the weekend, and many of our students are now thinking about the ski and snowboarding season ahead. If your student skis or snowboards, please encourage them to participate in our annual Snow and Avalanche Workshop (SAW) scheduled for tomorrow, Wednesday, Oct. 26, from 4:30 to 8:30 p.m. in SUB Ballroom A. The workshop is free, and no registration is required. The event will also be livestreamed, and a recording of the event will be available on the SAW website. More details and a schedule are available on the website. Text a reminder about SAW to your student right now!
Speaking of safety, Halloween is coming up, and the days around this holiday are historically among our busiest with social events, resulting in an uptick in campus alcohol and drug violations and related injuries. This week, please ask your student about their Halloween plans, encourage them to go out with friends they know and trust, and never accept a drink from someone they do not know. In addition to planning for their costume and social calendar, we encourage them to also plan for:
How they will get to and from events
How long they intend to stay at events, along with their group
What to do if they get separated from their group
MSU's Safe Cats app is also a great resource. The app features Friend Walk, which lets users send their location in real-time to a friend who can make sure they arrive at their destination safely. When a friend isn't available, students can use the app's Safety Escort feature to call UPD and request a ride on campus.
Warm regards,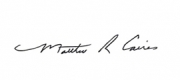 Matthew R. Caires
Dean of Students