Dear Bobcat parent and family members,
Wow, can the weather change fast in Bozeman! On Saturday morning, I rode up Corbly Gulch on the west side of the Bridgers in short sleeves. It was hot, but the wind was already picking up. By Saturday night, a front moved into the Gallatin Valley bringing rain, and we woke up Sunday to a nice coat of white in the high mountains all around MSU.
When the weather turns cold in Montana, many of our students head into the backcountry with skis and snowboards looking for enough snow to make turns. And that worries me. Every year, we have multiple students injured from attempting to ski through thin snowpack and hitting rocks instead. We've also experienced a number of avalanche injuries, and it is tragic when fatalities occur.
If your student is a skier, please remind them about learning and honing their backcountry skills by employing the fundamentals of "know before you go":
Take a class
Practice with beacons
Know your gear
Check daily reports
To help provide safety education for students who ski in the backcountry, MSU will offer our annual Snow and Avalanche Workshop (SAW), a free event for all members of the MSU and Bozeman community. This year all presentations will be virtual, and we are spreading out the presentations over four 1-hour sessions. All sessions will be on Mondays from 7 p.m. to 8 p.m. during November, and presentations will benefit attendees of all experience levels. A description of each workshop can be found on the MSU Outdoor Recreation Program website. Please encourage your student to attend these learning opportunities just in time for the start of winter!
On the academic front, faculty and staff advisors are preparing to meet with students starting next week to help them register for Spring semester classes. With registration for continuing students based on the number of credits earned, our seniors will start registering for classes on Oct. 26. You and your student can find out more information about the registration process on the Registrar's website.
Please encourage your student to connect with their advisor to schedule their advising session within the next week. If your student doesn't know the name of their academic advisor, there's an easy way for them to find out. The Advising Center has an advising commons webpage with links and instructions for students to follow.
I also want to remind our parent and family members that Winter 2020 Commencement ceremonies are scheduled for Sunday, Nov. 22, at Bobcat Stadium at 11 a.m. and 2 p.m. This year, graduates must register by Oct. 30 in order to participate. Each graduate is invited to bring up to two guests, and every guest will be required to have an individual, bar-coded ticket in order to enter the commencement ceremony. Tickets will be delivered electronically by Friday, Nov. 20.
A link to the livestream of the event will be available on the day of the ceremony for family members and friends not able to attend in person. Please be sure to check the commencement website regularly for the most up-to-date information.
Many regards,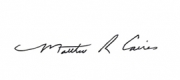 Matthew R. Caires
Dean of Students
P.S. Thanks to all of you who attended our virtual Parent & Family event last Thursday! If you missed it, you can watch the recording at your convenience. And on Thursday evening, I highly recommend tuning in to the Zoom discussion entitled "2020 Vaccines: From research to development to market" with Jason Carter, MSU vice president of research and economic development.