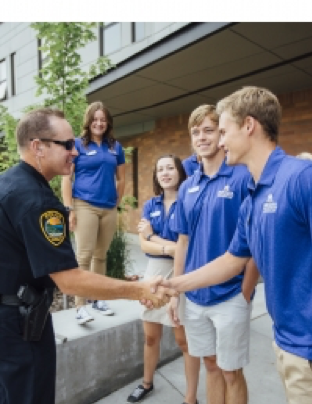 Dear Bobcat Parent and Family Members,
This upcoming week is going to be exceptionally busy on campus and in our community, which is why I'm writing to you on a Sunday about this vital information. It's just too important to miss.
Later this week, MSU will publish our 2018 Annual Security & Fire Safety Report (ASR), which includes a wealth of information regarding campus awareness, prevention programs and safety services. The ASR also details statistical data on various crime and policy violations that occurred on campus in the previous calendar year. Once published, I'll send you a link to the final report in a future email.
One reason this report is so important to me is it helps to set a tone regarding campus safety. In President Cruzado's opening message, she affirms, "Our highest priority at MSU is the safety of our students, faculty, staff and visitors while spending time on our campus...we must never slow down our efforts to ensure our collective safety. This requires the cooperation of us all."
One of our most important partners in furthering campus safety is MSU Police Chief Frank Parrish. Chief Parrish and his team at the University Police Department work every day to respond to reports of crimes and other threats to safety. And, it is with the support of Chief Parrish that MSU is moving forward with new safety initiatives, including an important program later this week.
This Tuesday, September 25th at 7:00 p.m. in the Strand Union Ballroom, Kristina Anderson will deliver a first-hand account of her personal experience as a student and victim during the mass shooting at Virginia Tech in 2007. She also plans to discuss the importance of violence prevention programs and other proactive strategies for colleges and universities.
Please consider forwarding this email to your student with a nudge to attend the event on Tuesday. While our work to safeguard all on campus is ongoing, the awareness and participation of students is critical to this mission.
Matthew R. Caires
Dean of Students
Bobcat Parent & Family Program
174 Strand Union Building | P.O. Box 174220 | Bozeman, MT 59717
www.montana.edu/parents | [email protected] | 406-994-7359