Dear Bobcat parent and family members,
As we anticipated, we are feeling the ups and downs of opening the university's doors to students this fall, and this past week was a good example. The week started out with the encouraging news about MSU's fall enrollment, as well as record-setting retention and 4-year graduation rates. And then on Friday, the Gallatin City-County Health Department reported that the number of active COVID-19 cases affiliated with MSU was higher than the previous week, going from three to seven.
I have talked with several of our students ill with the coronavirus on the phone, and they are in good spirits. Some have mild symptoms that include a minor cough and fatigue; others are experiencing additional and more severe symptoms. They are each finding ways to manage and persevere through their quarantine restrictions.
The university has hired a number of case managers that are focused on providing students in isolation and quarantine essential services, with the goal of helping them to recover while also keeping up with their classes. Professors have been asked to offer additional time for students if they need to miss an exam and to provide remote delivery of materials when students cannot attend cases due to illness.
As I've mentioned before, you can find up-to-date information on the county's Healthy Gallatin website. Please check in with your student and remind them of the important steps they can take to minimize the risk of exposure to the virus, including social distancing and wearing face coverings.
In other important campus news, I want to remind our parents and family members to discuss civic responsibilities that may be new for our students: 1) Registering to vote and 2) completing the 2020 census.
Today, September 22, is National Voter Registration Day, and we're reminding our students that each and every vote counts in our democracy. Regardless of where they are from, our students may register to vote in Montana's elections. However, out-of-state students must choose between voting in their home state or in Montana's elections. In Montana, the deadline is October 26 for regular voter registration ahead of the November 3 election, and Gallatin County offers mail-in ballots to help with safety and convenience. Please forward this important information on how to register to vote in Montana to your student.
The U.S. Census Bureau counts everyone living in the United States and its territories every ten years, and today's college students were in elementary school during the last census. This means many young adults may not understand the significance of the census. Our count in Montana determines how billions of dollars in federal funding get allocated and how many representatives we have in Congress. The census counts people where they live and sleep the majority of the time, and the date the Census Bureau is looking at is April 1, 2020. Therefore, students who lived on or off campus in Bozeman on April 1 would be counted in the city's tally. Please take a few minutes and share this information with your student and encourage them to complete their census form before September 30.
In your health,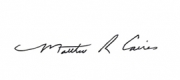 Matthew R. Caires
Dean of Students
P.S. I hope you received your invitation to our 2020 Parent & Family Program - From Our Screen to Yours on October 8. Please join me, President Waded Cruzado and ASMSU President Michael Vasquez for an engaging and informative evening. To find out more and register for the event, visit www.msuaf.org/msu.