Dear Bobcat parent and family members,
Parent and Family Weekend is upon us! Hands down, this is always one of my favorite weeks during the academic year. The students are fully into the rhythms of the academic year, and the weather in southwest Montana is usually picture-perfect. The autumn colors are starting to show, and I have a feeling we're going to have an incredible weekend.
MSU is ready to welcome our parents and family members to campus this weekend. And I'm looking forward to meeting many of you in person and reconnecting with those I met during Move-In Weekend and this past summer. If you just realized that you're able to join us in Bozeman but haven't registered yet, please do so ASAP at this website. The schedule of events and activities is available on our Parent and Family Weekend webpage.
In addition to Parent and Family Weekend activities, we have many campus events in the weeks ahead, including Homecoming! I hope your student will participate and take advantage of these opportunities. You and your student can find out what's going on by checking the MSU events calendar.
On Sept. 30, MSU will celebrate American Indian Heritage Day. This annual event pays tribute to the cultural legacy and societal contributions of American Indians in Montana and the U.S. The theme for this year's event is "Every Child Matters: Remembering Ancestors, Honoring Survivors and Celebrating Children." The university has planned a full day of programs at American Indian Hall, including a talk on "History and Impact of Residential Schools," educational exhibits, a prayer walk, an honor song and dance exhibition and a community feed. If you're in town for Parent and Family Weekend, we hope you'll join your student for one or more American Indian Heritage Day programs.
Hispanic Heritage Month began on Sept. 15. A series of events will celebrate the histories, cultures and contributions of people with Hispanic and Latinx heritage. Some highlights include an Oct. 12 panel discussion on "Community and Connection in the Gallatin Valley." And on Oct. 24, MSU's Leadership Institute will host "Salsa, Soul and Leadership: A Tribute to Hispanic Leadership," which will feature professional salsa dancing instruction, leadership lessons, a DJ-ed party and social dancing. Your student can visit the Hispanic Heritage Month website for more information about these and other events. The website also includes resources for you to explore Hispanic heritage through recipes, readings, activities and ideas for activism.
Finally, if your student is looking for full-time employment or an internship in their near future, MSU is hosting the Fall 2022 Career Fair Oct. 3-7. We expect more than 200 employers to be at the fair. Participants include Montana organizations and companies like Bozeman Health, Barnard Construction, Northwest Farm Credit Services, onXmaps, Zoot Enterprises, Wildfire Defense Systems and D.A. Davidson, and larger employers such as Northwestern Energy, Fast Enterprises, Los Alamos, Verizon and many more. Receptions, networking events and information sessions will kick things off on Oct. 4. The fair itself will be held on Oct. 5-6 in the Strand Union Building ballrooms. Interviews will be scheduled for Oct. 6-7 in Inspiration Hall in Norm Asbjornson Hall.
Warm regards,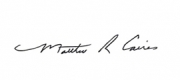 Matthew R. Caires
Dean of Students
P.S. Families in the Dallas area, join MSU alumni and friends for a presentation Wednesday, Oct. 12, by my friend and colleague Joe Schumacher, director of MSU Veteran Services. For details about the event at STIRR - Addison and to RSVP, click here.