Academic Advising Award (Faculty)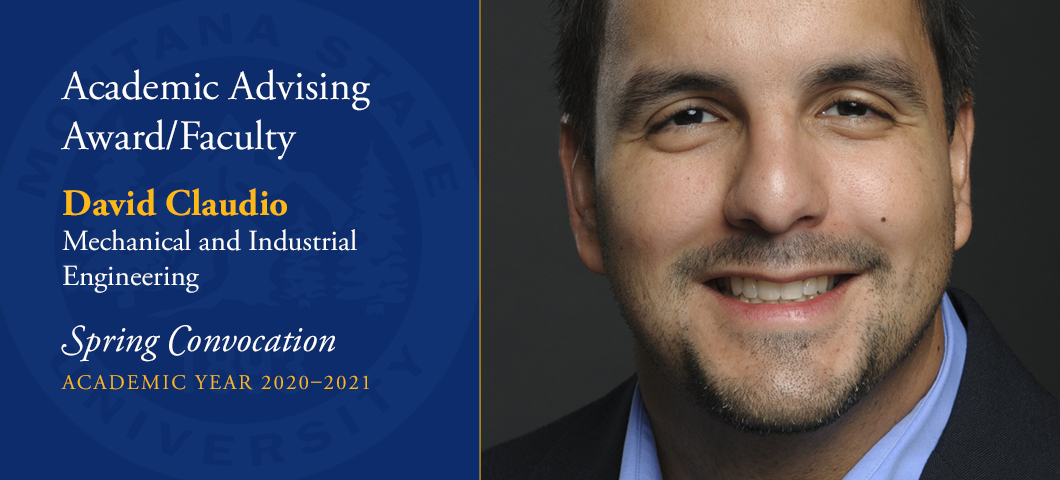 David Claudio
David Claudio, associate professor in the Department of Mechanical and Industrial Engineering in MSU's Norm Asbjornson College of Engineering, has won the Outstanding Academic Advising Award for faculty. He will receive a $2,000 honorarium.
Claudio is known for a teaching style that emphasizes mentorship and connecting with students at a personal level. In addition to serving as a formal adviser to roughly 30 undergraduates per semester plus additional graduate students, he is often the first person that other students in his department turn to for help on a resume, advice about career choices or to talk about whatever's on their minds. Students say his genuine interest in their individual stories and investment in their goals has the effect of motivating them to succeed. International students know him as a mentor who learns to say "hello" in their native language to help them feel at home at MSU.
"As a professor, I believe that teaching and advising go hand in hand," Claudio said. "My teaching style is that of a mentor instead of a lecturer. Students in my courses learn to see me not just as an instructor but as someone who they can reach out to and talk about professional and personal matters."
Claudio said he approaches advising with the belief that every student should be shown compassion, admiration and respect in order to help them make the most of their education. And he likes to lighten up his lectures about complex engineering concepts and equations by turning them into analogies for the learning process and how to succeed in life.
Claudio also serves as adviser for the MSU student chapter of the Institute of Industrial and Systems Engineers and co-adviser for Fuerza LatinX. He co-founded and is co-adviser for the MSU student chapters of the Society of Hispanic Professional Engineers and the Society for Advancement of Chicanos/Hispanics and Native Americans in Science. In 2017, after being nominated by his students, he received the Global Outstanding Faculty Advisor Recognition Award from the Institute of Industrial and Systems Engineers.