Academic Advising Award (Staff)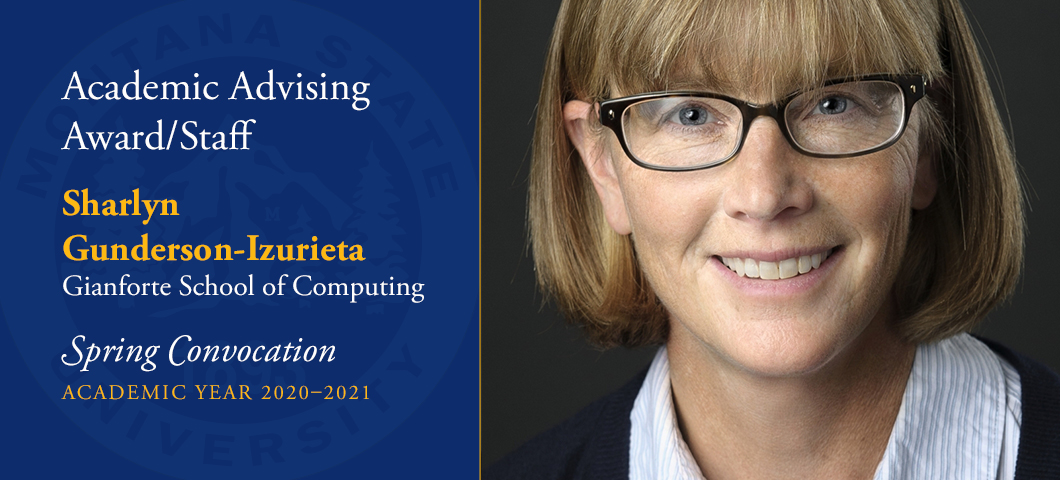 Sharlyn Gunderson-Izurieta
Sharlyn Gunderson-Izurieta, academic adviser in the Gianforte School of Computing, received this year's Academic Advising Award. The award honors individuals who have made significant contributions to academic advising and includes a $2,000 honorarium.
"Sharlyn constantly goes above and beyond what her position requires to make sure all of her students have someone to whom they can turn when they are confused or unsure," wrote Anthony Nardiello, one of Gunderson-Izurieta's advisees, in a nomination letter. "Her care and dedication truly shine and touch each of her students. She strives to put the student's best interests forward, a belief that makes her beyond compare to any advisor I have ever known."
Since her position was created in 2013, Gunderson-Izurieta has seen student enrollment in the Gianforte School of Computing grow from fewer than 200 students to more than 500. She advises nearly 40% of those students to keep them on track for graduation, while also engaging in the school's community development initiatives and guiding prospective students through the exploration and application processes.
Gunderson-Izurieta collaborates with offices across the MSU community for events and outreach efforts. These include the school's tutoring center and department newsletters, as well as Sit with Me, a campaign that encourages women to pursue careers in computing, and Bobcat Software Factory, a partnership that connects MSU students with local elementary, middle and high school students to teach coding to the next generation of computer scientists.
"Sharlyn welcomes students warmly, helps them connect with one another and provides them with meaningful professional development," said John Paxton, director of the Gianforte School of Computing. "Her advising expertise, the new procedures she has instituted, her ability to rapidly learn how to provide virtual advising during COVID-19 and the advising materials she has developed have been instrumental in helping our organization recruit and retain a rapidly growing number of students."