Excellence in Outreach Award (Faculty)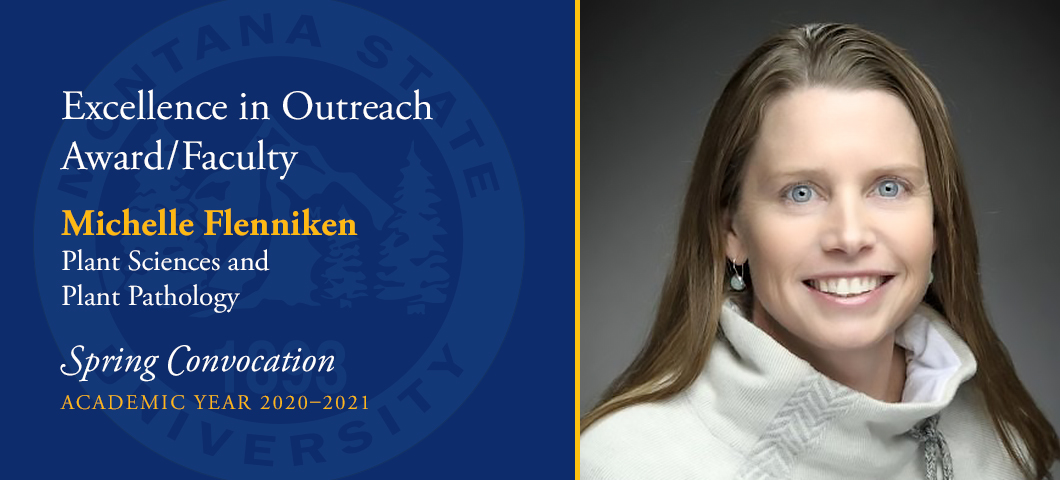 Michelle Flenniken
Michelle Flenniken, an associate professor in the Department of Plant Sciences and Plant Pathology, received the Excellence in Outreach Award for faculty, which recognizes significant engagement programming and achievements. The award carries a $2,000 honorarium.
Flenniken's research focuses on genetics and virology with an emphasis on the impact of pathogens, particularly viruses, on honeybees. In addition to teaching and lab research, she actively engages with members of the public to educate them about bees and the threats they face as critical pollinators.
"Dr. Flenniken is one of MSU's most visible professors," said Mike Giroux, head of the Department of Plant Sciences and Plant Pathology. "She engages the general public from first graders through senior citizens as well as specialized audiences such as beekeepers, entomologists and virologists, and readily volunteers for all available opportunities presented to her and by creating events that both educate and inform the public."
Flenniken expanded the reach of her scientific work during the COVID-19 pandemic to go beyond insect viruses, working with Bozeman Health Deaconess Hospital to establish SARS-CoV-2 virus testing protocols. Flenniken and lab team members Katie Daughenbaugh, Caley Faurot-Daniels and Verena Lawrence provided lab equipment and additional trained staff to maximize testing capacity. Flenniken also served as a liaison between the hospital and other researchers at MSU.
"She readily engages the audience and conveys excitement for what is happening at Montana State," said Giroux. "Michelle's success in outreach is indeed MSU's success, since she presents such a positive image of our institution."