James and Mary Ross Provost's Award for Excellence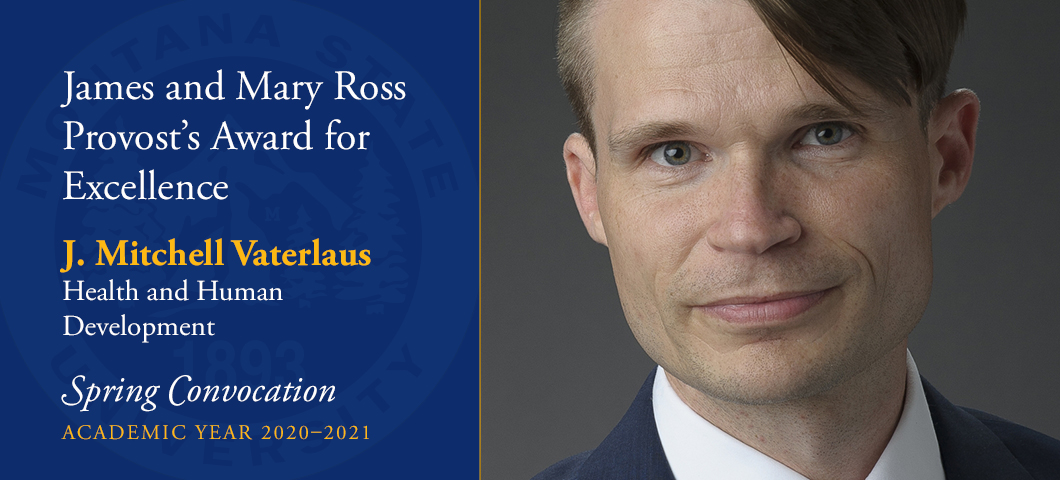 J. Mitchell Vaterlaus
Mitchell Vaterlaus, associate professor in the Department of Health and Human Development, has won the James and Mary Ross Provost's Award for Excellence in recognition of excellence in teaching and scholarship. The award includes a $2,500 honorarium.
As a professor, Vaterlaus is known for connecting his students with people and activities outside the classroom to enhance engagement and strengthen learning retention. For example, in one course focused on middle childhood and adolescent development, he forms TV clubs in which student groups view a season of a current television program, answer assigned questions and reflect on the developmental accuracy/inaccuracy of the adolescent depictions. The project culminates in a class presentation about relevant adolescent development principles.
Vaterlaus' students praise him for making information relatable and applicable to the future. The Department of Health and Human Development recognized him for his outstanding teaching in 2016 and, in 2019, as an outstanding faculty member. In addition, he has been recognized multiple times with Faculty Excellence Awards, and in 2019 he was honored with the MSU Greek system's Order of Omega Faculty Excellence Award for his teaching and mentorship.
Vaterlaus is a regular guest lecturer in other courses. He has also been active in the Center for Faculty Excellence, where he has served on the TEACH committee and has also served as a workshop panelist several times related to online teaching, active learning, diversity and inclusion and technology in teaching.
As a scholar, Vaterlaus studies applied family science and the intersection between new media and technology and human development and relationships. He is particularly interested in the evaluation and implementation of relationship education with underserved populations. His applied family science research has resulted in several practical considerations for family professionals. For example, he has developed recommendations about how to make treatment for relationship problems more accessible for people of color and how to make female-dominated family science classes more inclusive of male students.
In his work related to the influence of new media and technology, Vaterlaus focuses on parental monitoring of adolescent and young adult technology use; interpersonal relationships and technology; generational differences; motivations for text messaging; youth culture; and the connection between health and social media use among young adults. "His work in this area has been groundbreaking, as technology use has become so influential (and potentially unhealthful) in our daily lives," wrote Alison Harmon, dean of the College of Education, Health and Human Development, in her nominating letter. "The empirical knowledge he is developing will help professionals promote healthful technology use within families."
Vaterlaus is a productive scholar, averaging more than six peer reviewed scholarly publications per year for a total of 46 articles and five book chapters. Within his 46 manuscripts he has 19 graduate student co‐authors and 10 undergraduate co‐authors. He has mentored seven McNair scholars and three students in the Undergraduate Scholars Program. He has also mentored 19 other undergraduate students and seven graduate students on independent research projects.