President's Excellence in Teaching Award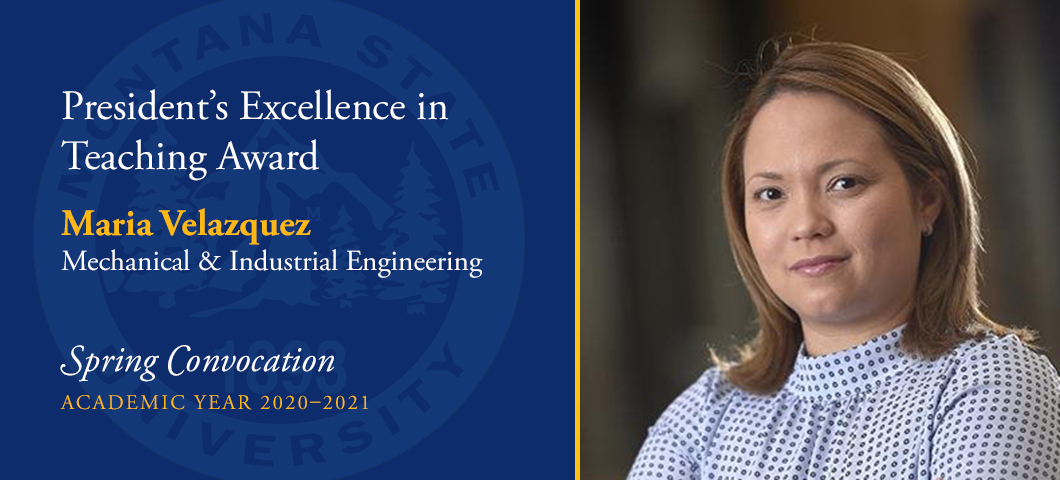 Maria Velazquez
Maria Velazquez, assistant professor in the Norm Asbjornson College of Engineering, has won the President's Excellence in Teaching Award. The award comes with a $2,500 honorarium.
Velazquez has taught at MSU for the last nine years and has led at least one course at every level in industrial and management systems engineering. As a Hispanic, first-generation woman in engineering, Velazquez finds a way to connect with every student, particularly those from underrepresented groups, according to a nominator. In addition to her teaching activities, she also engages with many students in activities related to diversity and inclusion. Velazquez does so in a respectful and caring manner which, as her colleagues say, leaves a lasting positive impression in students. When working with students, Velazquez finds it important to be vulnerable in order to help them feel more comfortable and capable in their personal and collegiate lives. She shares mistakes that she, or other engineers, have made and offers advice on how to overcome them. She also tells stories about work-life balance and relates class concepts to life, academic and co-academic skills.
"She has had great course evaluations, yet is constantly looking for ways to improve," wrote a nominator. "For example, she has completed three of the American Society of Engineering Educators National Effective Teaching Institute courses."
Currently, Velazquez works at the Norm Asbjornson College of Engineering EMPOWER Center as the director of justice, equity, diversity and inclusion. She is also exploring the research area of engineering education. Due to COVID-19, Velazquez had to halt her teaching responsibilities this past semester, the first time she has not taught since coming to MSU. According to colleagues, many students have mentioned that their lives are better because "Dr. Maria" is in them.