Provost's Award for Graduate Research/Creativity Mentoring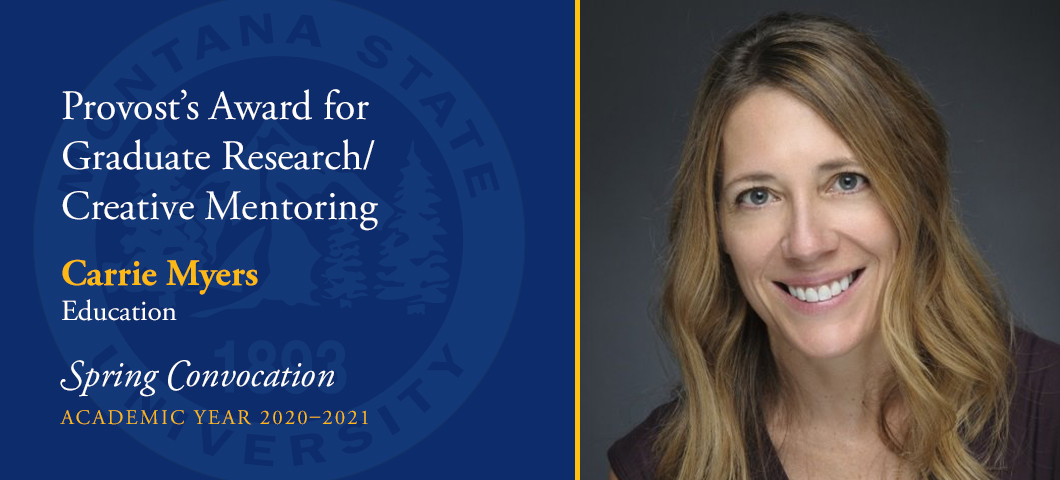 Carrie Myers
Carrie Myers, professor of adult and higher education in the Department of Education, has won the Provost's Award for Graduate Research/Creative Mentoring, which recognizes a faculty member who engages graduate students. The award comes with a $2,000 honorarium.
Since joining the MSU faculty in 2006, Myers has been an active and accomplished researcher, with 21 peer-reviewed publications and one invited article, one peer-reviewed book chapter, 25 technical reports, 42 peer-reviewed professional presentations and 22 invited presentations. In addition, she has been involved in grant-funded work, with internal and external grants totaling more than $3.3 million.
Her research focuses broadly on faculty and higher education, education trajectories and the sociology of education. Much of Myers' disseminated work involves her graduate students. In total, she has included students in six peer-reviewed publications, 25 peer-reviewed presentations and nine invited presentations.
Myers has chaired or advised a total of 40 adult and higher education graduate students who have completed their Ph.D., Ed.D. or master's degree in education. In addition, she has served on the committees of 64 other graduate students who completed their degrees. She currently chairs seven committees and serves as a committee member for 16 additional graduate students. She has also advised five students who received fellowships through Montana INBRE, the American Educational Research Association or the Montana Office of the Commissioner of Higher Education.
One of Myers' achievements in graduate student mentoring is the development and stewardship of the College Teaching Certificate, which the Department of Education began offering in 2012. To date, 37 students have completed the program, and Myers currently advises six students in the program. Each year, one can see the accomplishments of those who have completed the program at an annual research symposium that Myers has organized. The symposium has since become a student research celebration for the College of Education, Health and Human Development.
Students consistently give Myers high scores in their evaluations, and they say that her courses are demanding and rigorous, according to Alison Harmon, dean of the College of Education, Health and Human Development, who nominated Myers for the award. Students also report that they are supported by constructive feedback and that Myers is always approachable and caring.
One of the ways to assess Myers' impact is to examine the career paths of her graduates, Harmon noted. Her students, who often aspire to work in the administrations of high education institutions, have gone on to careers at various institutions, including MSU, Montana Tech, MSU Billings and Carroll College, as well as many out-of-state schools such as Washington State University and New Mexico State University.
"It is not difficult to imagine how the impact of Dr. Myers' mentoring will ripple throughout Montana State University for decades to come," Harmon wrote.