Teaching Innovation Award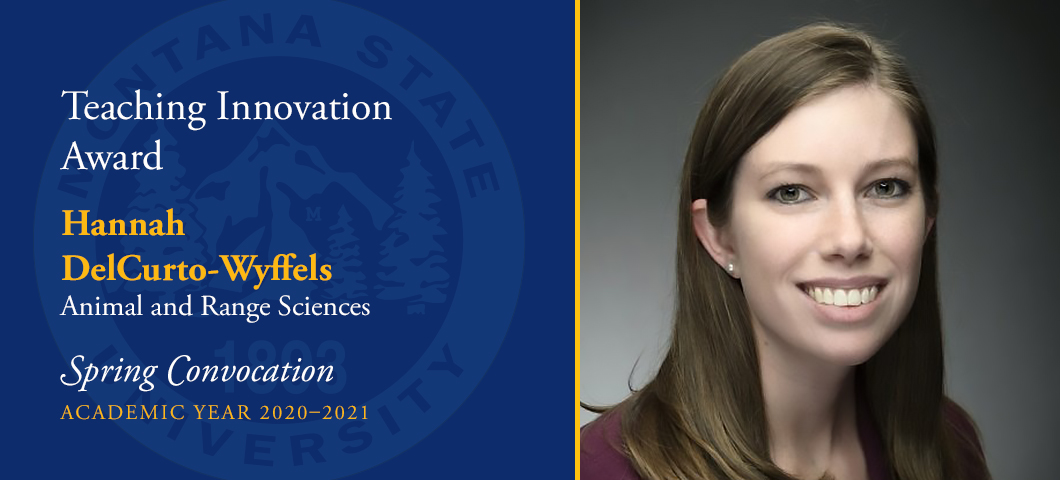 Hannah DelCurto-Wyffels
Hannah DelCurto-Wyffels, an instructor in the College of Agriculture's Department of Animal and Range Sciences, received the Teaching Innovation Award. The award recognizes faculty who have incorporated outstanding teaching practices into their classes at Montana State University. The award includes a $2,000 honorarium.
DelCurto-Wyffels teaches introductory animal science courses and specialized courses in livestock evaluation, calving and livestock management. She also advises MSU's Steer-A-Year program, through which students oversee all elements of raising and caring for steers donated by agricultural producers across Montana. Meat from those steers is served annually in MSU's dining halls.
"Hannah provides students in our department with an exceptional hands-on and innovative learning experience," wrote Marley Manoukian, a graduate student in the Department of Animal and Range Sciences, in a nomination letter. "Beyond being an instructor, she has been a mentor to not only me but to many other students as well. She has gone above and beyond to provide students with a variety of opportunities to be successful in their future careers in the agricultural industry."
DelCurto-Wyffels partners with Extension agents around Montana to maximize community education efforts, provides workshops to statewide FFA and 4-H students, judges county fairs each summer and advises MSU's Collegiate Stockgrowers student groups. She also assists with new student recruitment to the department and the College of Agriculture.
"Hannah's work mentoring students has led to a higher retention rate within the department, specifically for students coming from rural areas of the region," said Patrick Hatfield, department head for animal and range sciences. "It is her priority to get to know the goals and aspirations of as many students as possible to not only help them in learning key animal science principles but also help them achieve their academic and career goals."