Charles and Nora L. Wiley Award for Meritorious Research and Creativity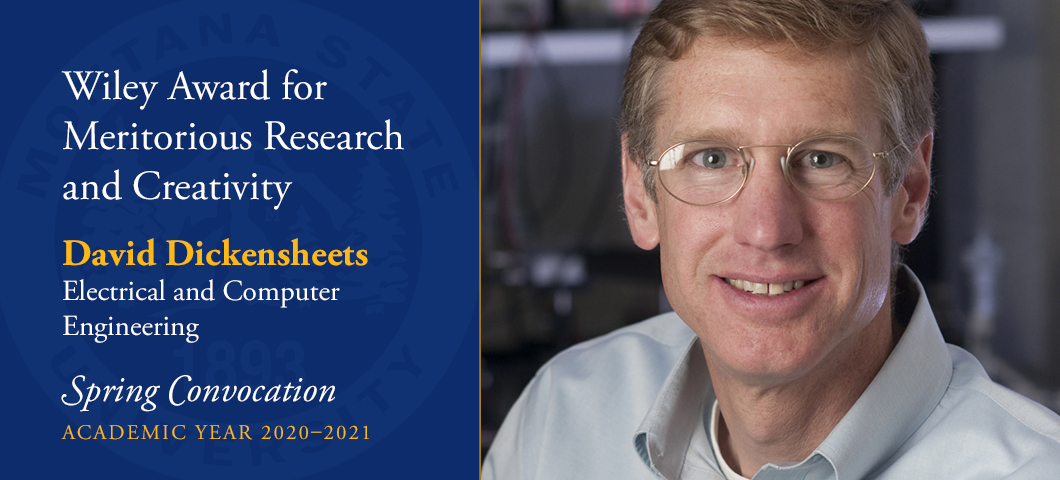 David Dickensheets
David Dickensheets, professor in the Department of Electrical and Computer Engineering in MSU's Norm Asbjornson College of Engineering, has won the Charles and Nora L. Wiley Award for Meritorious Research and Creativity. He will receive a $2,000 honorarium.
Dickensheets is widely known for pioneering optical technology that can be used to scan human tissue for diagnosing cancer, among other applications. His research has focused on developing tiny mirrors and other optical components that can be manipulated electronically in order to generate high resolution images. The devices can be used by health care providers to perform "optical biopsy" using light to see certain kinds of cells without needing to remove living tissue. The technology is being commercialized by two Bozeman companies started by his former graduate students.
According to collaborator Hans Zappe, professor in the Department of Microsystems Engineering at University of Freiburg in Germany, Dickensheets was the first researcher to take microfabrication methods traditionally used to produce silicon electronics and apply them to making the specialized optical device called a laser confocal microscope in the mid-1990s.
"Professor Dickensheets is widely recognized as an international leader in this research field," said Zappe in his nomination letter, noting that at least 15 research groups around the world now focus on the subject. "He has influenced the direction of research groups around the world."
Dickensheets, the founding director of MSU's Montana Nanotechnology Facility, or MONT, has brought nearly $22 million in grants and other funding to MSU through his research and leadership. In September, MONT was awarded another five-year, $3 million round of funding as one of only 16 centers nationwide in a National Science Foundation framework that provides cutting-edge equipment and technical assistance for research that involves ultra-small scales. His work has led to more than 99 scientific publications, 50 conference presentations, three book chapters, 15 issued patents and seven pending patents. He was elected a fellow of SPIE, the international society for optics and photonics, in 2013.