Academic Advising Award (Faculty)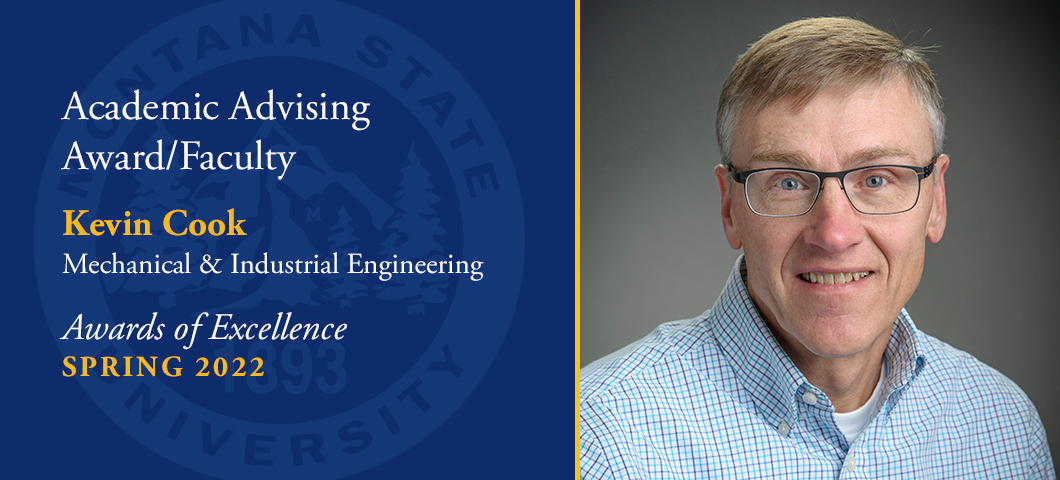 Kevin Cook
Kevin Cook, a professor in the Department of Mechanical and Industrial Engineering, is the recipient of this year's Academic Advising Award for faculty. The award honors individuals who have made significant contributions to academic advising and includes a $2,000 honorarium.
Cook is the program coordinator for the Mechanical Engineering Technology program and has been advising students in the department for the past 26 years. He is assigned around 45 Mechanical Engineering Technology advisees each year, but his reach extends beyond course selection. In addition to his advising slate, Cook mentors up to eight students in the senior capstone course for the Mechanical Engineering and Mechanical Engineering Technology programs and up to 20 students in the departmental internship program.
"Kevin is the heart and soul of MET advising," Sarah Codd, a professor in the Department of Mechanical and Industrial Engineering, stated in a nominating letter. "Basically, he feels he is here to help every individual student succeed and will advocate for them any way he can."
Cook's advising strategy begins in the freshman seminar course, where he encourages students to take responsibility for their own education by learning about their chosen profession and the best ways to prepare themselves for the future they envision. His student-focused approach combined with genuine interest and care for his charges has become a model for junior faculty.
According to student Will Swita, Cook provides valuable feedback to students, asking insightful questions about how individual course selection aligns with academic and professional goals.
"I am pleased to hear that professor Cook has been nominated for this award," Swita stated in a letter of support. "He has surely impacted my time here at MSU and I would not be on the academic and career path I am currently on without his guidance over the past year."