Academic Advising Award (Staff)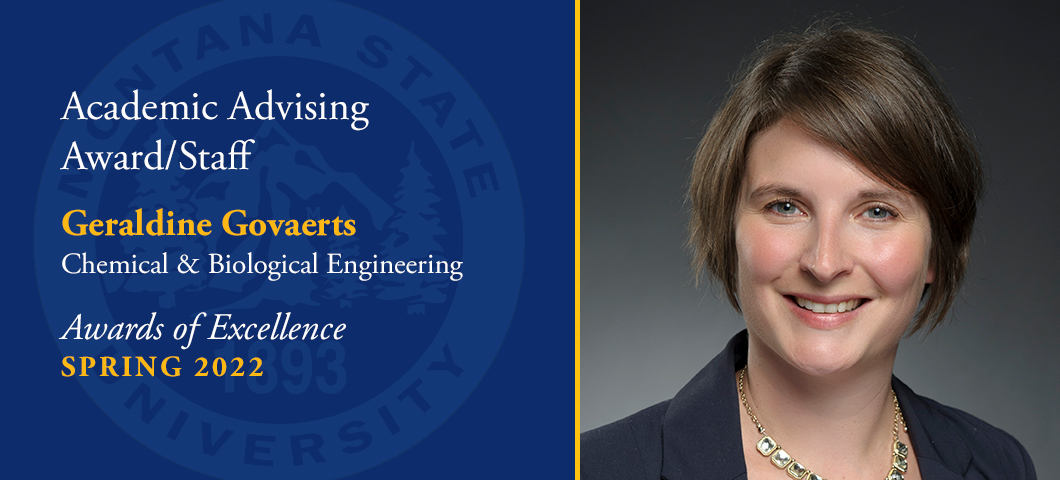 Geraldine Govaerts
Geraldine Govaerts, who advises each of the more than 400 undergraduate students in the Department of Chemical and Biological Engineering, is the recipient of this year's Academic Advising Award. The award includes a $2,000 honorarium.
"It is rare to meet an individual that has the patience, organizational skills, and thoughtfulness to be a great academic adviser, but Geraldine Govaerts has all those attributes," Jeff Heys, associate dean of the Norm Asbjornson College of Engineering, stated in a support letter. "In fact, she has all those attributes at a higher level than anyone else I have met. Her commitment to helping students of all backgrounds succeed is unmatched."
Govaerts is the primary academic adviser for the department programs — chemical engineering, biological engineering and the bioengineering dual degree in partnership with Istanbul Technical University — as well as dual degree students and those seeking a biomedical engineering minor. Each program has its own set of requirements and requires a thorough understanding of the curriculum.
But the curriculum is only the start for Govaerts, who is noted for her unwavering commitment to her students, knowing each by name and constantly seeking ways to support their education and personal development.
"Geraldine is the academic adviser that any student hopes to have when coming into college," according to 2020 graduate Sean Laughnan. "Having an adviser that goes above and far beyond what a student would expect makes all the difference in the world."
Department head Abigail Richards praised Govaerts for her innovative thinking to connect with students during a pandemic, her ability to provide practical assistance to support student development and her care and understanding.
"Geraldine is the best academic adviser I have ever known," Richards wrote in a nominating letter. "She works tirelessly on behalf of our students. I cannot imagine a more deserving person for the Academic Advising Excellence Award."