Anna K. Fridley Phi Kappa Phi Distinguished Teaching Award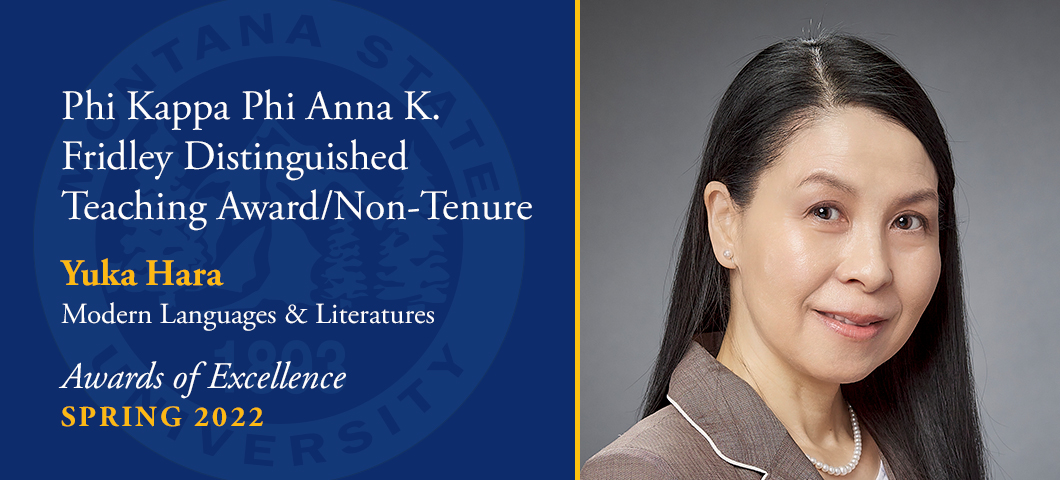 Yuka Hara
Yuka Hara, assistant teaching professor of Japanese in the Department of Modern Languages and Literatures has won the 2022 Phi Kappa Phi Honor Society Anna K. Fridley Distinguished Teaching Award for non-tenured faculty member whose accomplishments with students reach beyond the classroom and the library. The award carries a $1,000 prize.
Hara has taught Japanese at MSU since 1999. A native Japanese speaker who is a passionate teacher and who cares deeply about her students and their performance, Hara is beloved by her students who say her efforts to teach them Japanese go far beyond the walls of the classroom.
Nominators say that her willingness to encourage her students outside of class hours is unbounded and includes her advising students who wish to study at Japanese universities or who wish to work in Japan after graduating from MSU. She is said to have played a significant role in globalizing MSU students, helping them understand the world beyond U.S. boundaries. In addition, Hara has provided free assistance with the Japanese language to members of the community.
Student Jordan Jensen said that Hara's classes were "an intellectual refuge rather than a battlefield," reigniting Jensen's passion for Japanese culture. Student Sara King said that Hara demonstrates persistence, adaptability and genuine care for her students. King said that when classes went online in spring 2020 during the COVID pandemic, Hara "was able to maintain a thriving learning environment for her students," creating a community that allowed them to learn and grow.
Peter Tillack, associate professor of the Asian Studies Program at MSU, said that Hara is an outstanding teacher, both inside and outside the classroom.
"Every semester, she has exerted a presence in the classroom that is both commanding and captivating for her students," Tillack said. "I can say without reservation that (Hara's) consistent efforts have not only incited students' interests in taking Japanese but have also been instrumental in sustaining their interest in the study of a language that, for native speakers of English, is rife with challenges."