Anna K. Fridley Phi Kappa Phi Distinguished Teaching Award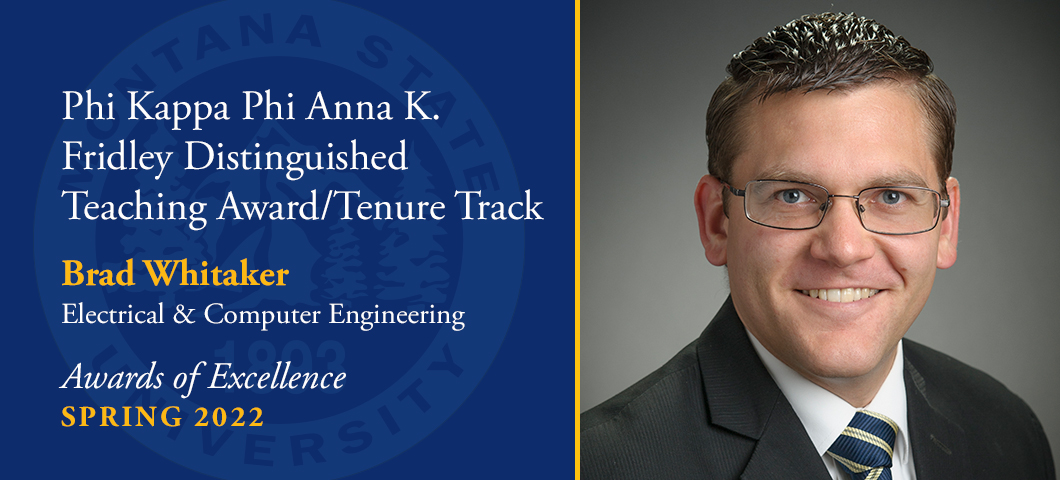 Bradley Whitaker
Bradley Whitaker, assistant professor in the Department of Electrical Engineering and Computer Engineering, has won the 2022 Phi Kappa Phi Honor Society Anna K. Fridley, Distinguished Teaching Award for a faculty member whose accomplishments with students reach beyond the classroom and the library. The award carries a $1,000 prize.
Whitaker joined the Norm Asbjornson College of Engineering in 2018 and teaches three courses in the area of signal processing.
Whitaker is said to be an empathetic professor who is easy to work with, excellent at communicating and very understanding of the struggles students face. In a nomination letter, a student described the challenging environment of their senior design capstone and its challenges, from the grading scale to the high standards. Despite the stressful conditions, Whitaker, the nominator's capstone group adviser, helped his students succeed without sacrificing their mental health and social lives.
Additionally, Whitaker has an "exam forgiveness policy" in his classes. For any reason if a student is not satisfied with a midterm exam score, they can make arrangements to take a different test with the same material. In addition to transforming exams from educational hurdles into unique learning opportunities, Whitaker's policy aligns with his belief that anyone can change, improve and progress in all areas of life.
"Dr. Bradley Whitaker shows the kindness, patience and empathy of someone who is willing to go beyond the classroom more than any professor I have encountered in my college career," the nomination letter reads. "He treats his students like peers and works with them, not against them, to provide the best learning experience possible, regardless of the circumstances."