Provost's Award for Graduate Research/Creativity Mentoring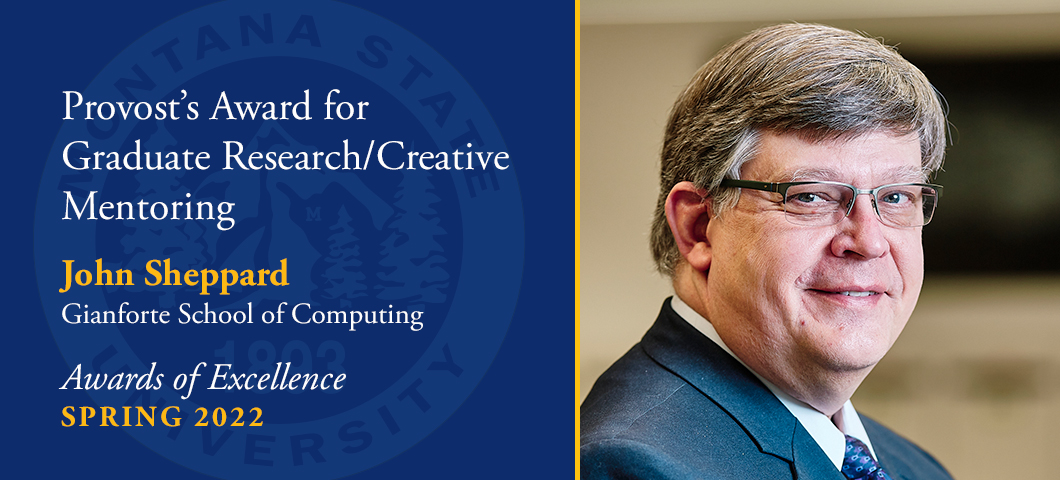 John Sheppard
John Sheppard has received the Provost's Award for Graduate Research/Creativity Mentoring, which recognizes innovation and excellence in graduate student mentoring. The award carries a $2,000 honorarium.
Sheppard, Distinguished Professor in the Gianforte School of Computing in MSU's Norm Asbjornson College of Engineering, is known for the high level of graduate student involvement in his research, which focuses on machine learning and systems engineering with applications in diagnostics and system safety. Since coming to MSU in 2008 as the RightNow Technologies Distinguished Professor of Computer Science, he has published 26 journal articles and authored 79 peer-reviewed conference papers with graduate students. Significantly, 10 of these papers have received "best paper" or "runner-up best paper" awards. He encourages graduate students to take on leadership positions in writing research grants and contracts and has included former students in patents for technology.
At MSU, Sheppard has advised 10 doctoral graduates and six master's students, as well as an additional 21 courses-only master's students, six of whom went on to complete doctoral degrees at MSU. He has also sat on committees for numerous other graduate students. He currently advises five doctoral students and one master's student and is the director of the Numerical Intelligent Systems Laboratory at MSU as well as the doctoral program coordinator for the Gianforte School of Computing.
According to Brett Gunnink, dean of the engineering college, "Dr. Sheppard distinguished himself as a leading researcher, and he has worked tirelessly to develop that same passion and excellence in his mentoring of graduate students."