Teaching Innovation Award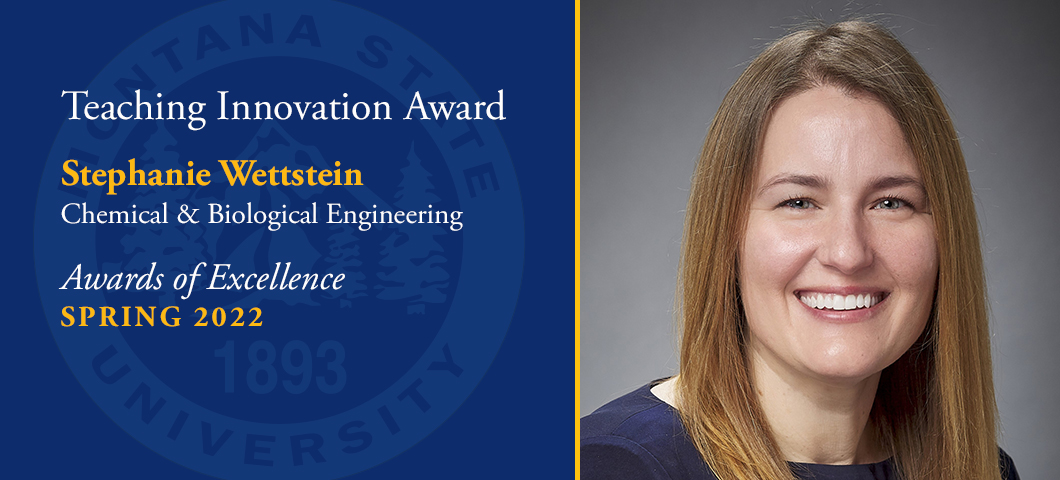 Stephanie Wettstein
Stephanie Wettstein, an associate professor in the department of Chemical and Biological Engineering, has received this year's Teaching Innovation Award. The award recognizes faculty who have incorporated outstanding innovative teaching practices into their classes at Montana State University. The award includes a $2,000 honorarium.
In 2015, Wettstein began teaching ECHM 442 — a laboratory class for seniors in chemical engineering — and noticed a disconnect between the skills taught in the course and those that had best served her during her time in industry. To bridge that gap, Wettstein created a role-playing scenario where students took on an industry role. Students became "interns" working for the Fundamental and Verified-Research Engineering Corporation or FAVRE Corp, a nod to Wettstein's Wisconsin roots and the former Green Bay Packers quarterback.
"She has transformed our senior laboratory course into an industry-relevant experience for our students that provides them with scenarios in which to apply their technical expertise while learning professional skills to serve them in their future careers," explained Abigail Richards, head of the chemical and biological engineering department.
In Wettstein's course, co-instructors are division leaders with different roles in the management of FAVRE Corp such as CEO and CTO. Lectures are workshops where students learn company policies. Homework assignments are memos and emails to the class are company communications. The "Employee Handbook" contains communication tips and statistical information.
According to Richards, students now rave about the real-world nature of the course, and she and other faculty who teach the second semester of the senior lab have adopted Wettstein's methods. Wettstein and Jennifer Brown have also been awarded a National Science Foundation grant to study the effectiveness of the scenario.
"I myself have witnessed significant changes in both the technical writing and the professionalism of our 'interns' when they join ECHM 443 after having their experience with Dr. Wettstein in the preceding course," Richards stated in a nominating letter.