VPREDGE Award for Meritorious Technology/Science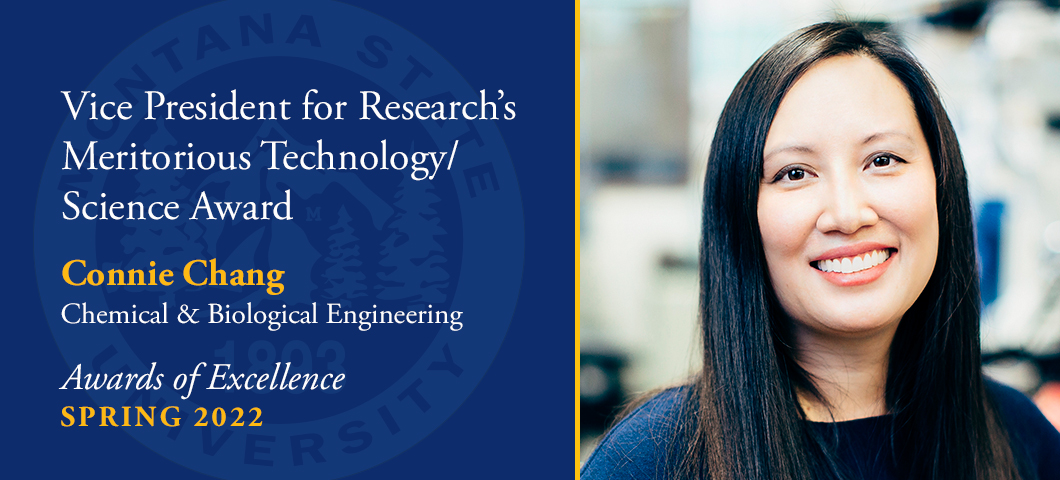 Connie Chang
Connie Chang has received the Vice President of Research, Economic Development and Graduate Education Award for Meritorious Technology/Science, which is given to an MSU faculty member who has made one or more significant technological/scientific contributions with potential for transfer to the private sector. The award carries a $2,500 honorarium.
Chang, associate professor in the Department of Chemical and Biological Engineering in MSU's Norm Asbjornson College of Engineering, is known as an expert in the field of microfluidics, which involves using small "chips" etched with tiny channels to manipulate thousands of droplets of fluid per second, with a variety of applications in biomedical engineering and other fields. Since coming to MSU in 2013, she has received the National Science Foundation's prestigious CAREER award and major grants from the Department of Defense, NSF and National Institutes of Health in support of her work.
In response to the coronavirus pandemic, Chang drew upon her microfluidics expertise to invent and refine a new detection technology that rivals the sensitivity of "gold standard" PCR testing while being faster and cheaper. Using a self-contained microfluidic chip, the technology detects very low levels of the virus in a saliva sample. Chang worked with MSU's Technology Transfer Office to license the technology and help launch ULTSafety Inc., a biomedical startup to commercialize the tool, which can be used to detect other viruses and pathogens. The technology has yielded three provisional patent applications.
"There is perhaps no better illustration of Dr. Chang's public service-minded approach to science than her response to the COVID-19 pandemic," said Quinton King, senior technology manager in MSU's Technology Transfer Office. "Her work at MSU is transformative in that it connects the theoretical to the practical with the ever-present objective of improving lives."