Women's Faculty Caucus Distinguished Professor Award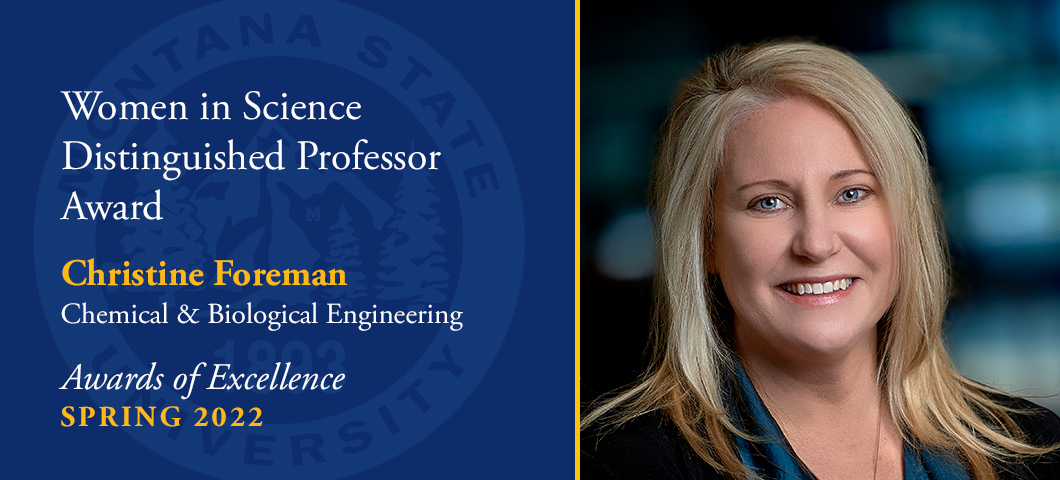 Christine Foreman
Christine Foreman has received the Women in Science Distinguished Professor Award, which honors outstanding faculty women in the sciences who have excelled in their research accomplishments, teaching, mentorship and contributions to MSU and the state of Montana. The award, which is given every two years, is sponsored by the Office of Academic Affairs and carries an $8,000 honorarium.
Foreman, professor in the Department of Chemical and Biological Engineering in MSU's Norm Asbjornson College of Engineering, is known as a leader who balances scientific exploration, teaching, statewide outreach and research mentorship, making her an exceptional role model to students. For her research on microbial life in cold environments, she has served as a field team leader for 11 Antarctic expeditions as well as studies in Greenland and Alaska. Involving collaborations with physicists, chemists, biologists and other engineers, her work has been published in 57 peer-reviewed papers cited more than 3,370 times. Her research has involved mentoring three doctoral students, two master's students and two dozen undergraduates. She currently supervises an interdisciplinary research group that includes five graduate students.
In the course of teaching several courses, Foreman has earned a reputation for creating an inclusive, empathetic environment and making herself readily available as an instructor. She has made mentorship of female and minority students a priority and serves as the program director for MSU's Women in Engineering Program. Under her leadership, MSU's enrollment of female engineering students has grown from 430 in 2012 to 680 today. Among her other outreach activities, she has led MSU's coordination of the annual First LEGO League, which offers a unique STEM team-building experience to dozens of teams all around Montana.
Foreman "is an exemplary woman in engineering and an ideal leader," commented one student. "She is one of my greatest inspirations."