Anna K. Fridley Phi Kappa Phi Distinguished Teaching Award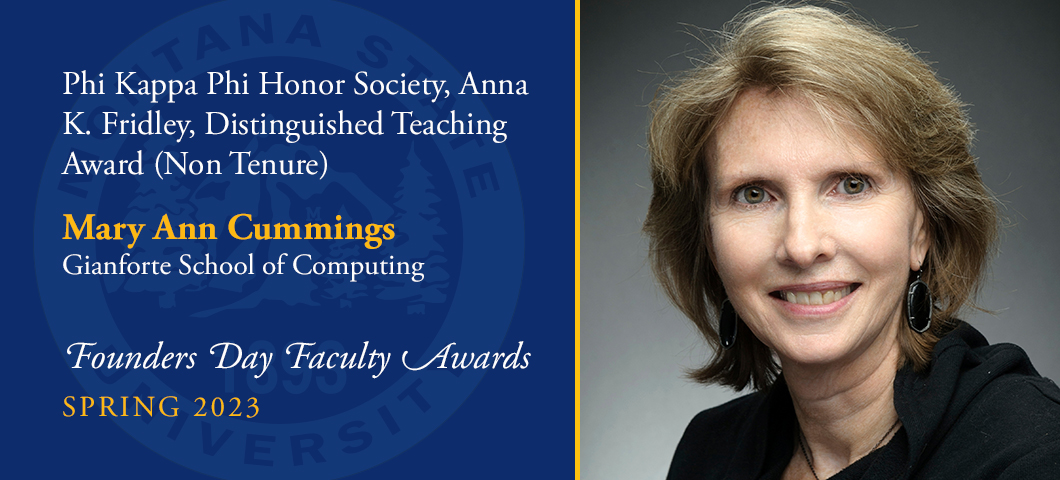 Mary Ann Cummings
Mary Ann Cummings, assistant teaching professor of computer science, has won the 2023 Phi Kappa Phi Honor Society, Anna K. Fridley Distinguished Teaching Award for non-tenure track faculty whose accomplishments with students reach beyond the classroom. Sponsored by the Phi Kappa Phi Honor Society, the award carries a $1,000 prize.
Cummings, who joined MSU's Gianforte School of Computing in 2018 following a 33-year career with the Naval Surface Warfare Center, teaches three courses each semester in computer science and software engineering, including Social and Ethical Issues in Computing, a core course taken by up to 100 students per semester.
Cummings is well known among students as someone who is always available to help them with an assignment, review a resume, celebrate an accomplishment or provide life guidance. Because of this she is sought-after as an academic adviser, with many computer science students selecting her as their preferred choice.
"Dr. Cummings goes beyond transactional advising to get to know each advisee on a personal level so that she can provide both career and life guidance," wrote John Paxton, director of the Gianforte School of Computing.
Paxton noted that Cummings has consistently improved the classes she teaches, including a unique and challenging course offered to both computer science and electrical engineering students. She also serves as the faculty adviser to the Association for Women in Computing club and is associate director of MSU's Science, Technology, Ethics and Society Center, which she co-founded.