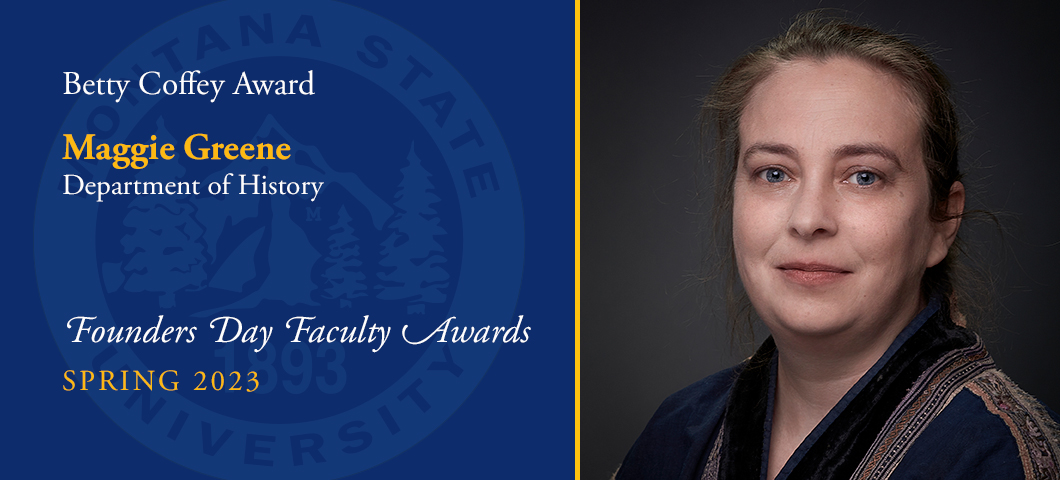 Maggie Greene
Maggie Greene, associate professor of history in the Department of History and Philosophy in the College of Letters and Science, is the recipient of the Betty Coffey Award honoring a member of the faculty or staff who demonstrates outstanding achievement in incorporating women's perspectives into the curriculum. Given by the Women's, Gender and Sexuality Studies Committee, the award carries a cash prize of $1,000.
Greene is a specialist in modern Chinese history. Her research generally focuses on the cultural history of the People's Republic of China, from traditional Chinese opera to high-altitude mountaineering. In her teaching, she centers the ways gender, race, class and geography have shaped various aspects of culture and life. She consistently weaves issues of gender and sexuality into the narratives of all her classes as an integral part of the topics rather than as "tacked on" discussions, according to Kristen Intemann, MSU professor of philosophy, who nominated Greene for the award.
Greene has served as a member of the Women's, Gender and Sexualities Studies Committee since 2013 and became a member of the WGSS Executive Committee in 2020. She teaches several courses for the Women's, Gender and Sexualities Studies, or WGSS, minor, including Gender in Asia and Gender and Technology. As a member of the executive committee, Greene has helped establish learning outcomes and assessment plans for that program. She has served as a McNair Scholars mentor and helped advise and mentor students in WGSS and Asian studies, as well an in history.
Created in 1986, the award honors the memory of Betty Coffey, a faculty member in computer science from 1977 until her death in 1984, who was the first woman ever to achieve tenure in the College of Engineering. The award remembers Coffey's contributions to faculty development, teaching excellence and women's equity at MSU.