Cox Faculty Award for Creative Scholarship and Teaching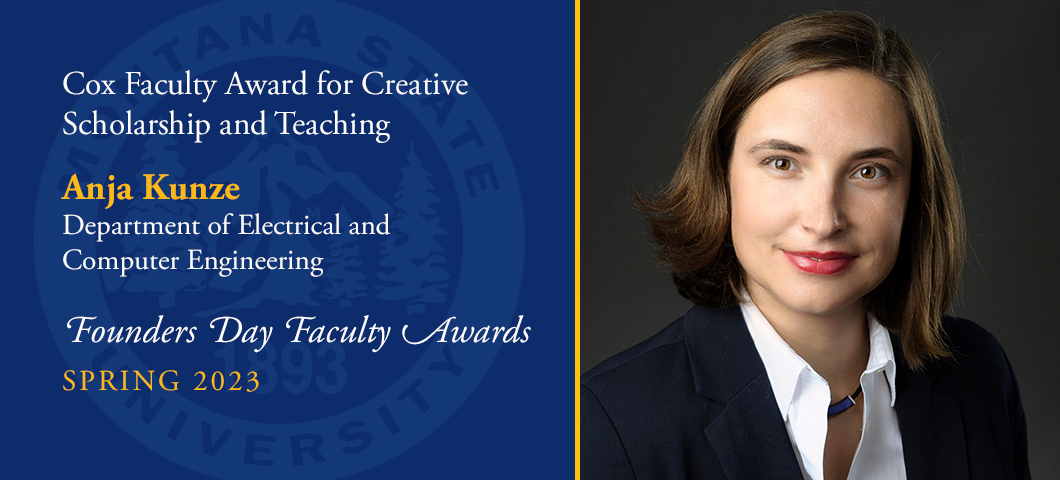 Anja Kunze
Anja Kunze, associate professor in the Department of Electrical and Computer Engineering, has won the 2023 Cox Faculty Award for Creative Scholarship and Teaching, which recognizes a fusion of superior research with excellence in upper division/graduate instruction. Sponsored by the the Cox family and the Office of Academic Affairs, the award carries a $2,000 prize.
Since arriving at MSU in 2016, Kunze has led highly successful and prolific research that applies engineering principles to the modulation of neural networks and function of brain cells, with a goal of developing next-generation cell assays that can be used to test treatments for degenerative brain diseases such as Alzheimer's. Throughout her academic career she has published over 20 peer-reviewed journals articles and conference papers, while forging new multidisciplinary research collaborations.
Among her students, Kunze is known for teaching two unique and engaging courses that she developed to support MSU's new biomedical engineering bachelor's degree. In one course, students create a biosensor that converts hand movements into an electrical signal that flashes an LED light. Her courses receive some of the highest student ratings in the engineering college.
Kunze recruits students from her classes to work in her lab and engages them with applying research to real-world solutions. She has been granted four provisional patents with students as co-inventors. A company she started with three of her students, NanoMagnetic Solutions, took second place in MSU's inaugural $50k Venture Competition and was selected to participate in the highly competitive Early Stage Montana HyperAccelerator Tech Series in 2021.
"Dr. Kunze has done an exceptional job at building a highly interdisciplinary research and teaching program at MSU," wrote her faculty nominators. "Her work to seamlessly integrate her scholarship and upper-level teaching makes her an ideal recipient of the Cox Faculty Award."