Excellence in Outreach Award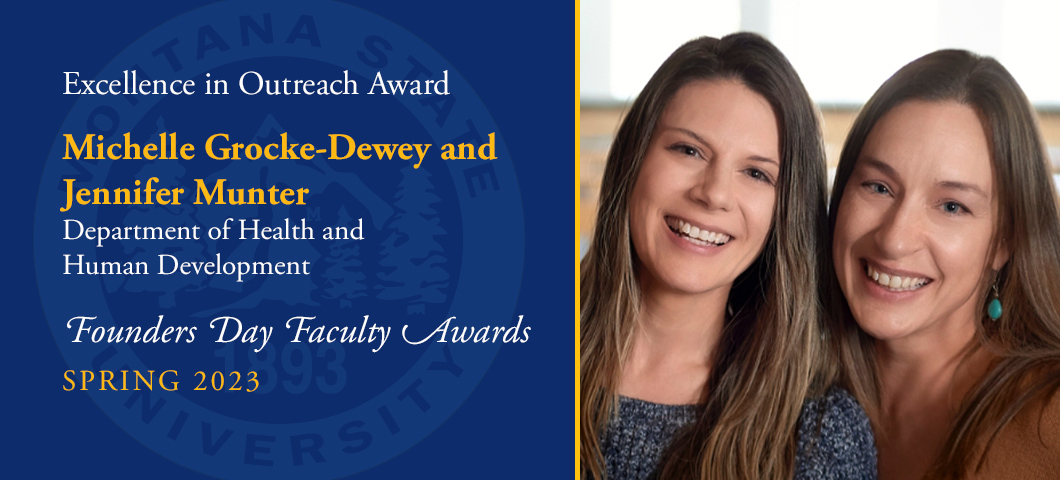 Michelle Grocke-Dewey and Jennifer Munter
Michelle Grocke-Dewey, assistant professor in the Department of Health and Human Development and health and wellness specialist with MSU Extension, and Jennifer Munter, program manager with MSU Extension, have received the Excellence in Outreach Award, which recognizes commitment to MSU's land-grant mission of outreach and engagement as well as significant outreach and engagement achievements. Sponsored by the Office of Academic Affairs, the Outreach and Engagement Council and MSU Extension, the award comes with a $2,000 honorarium.
Grocke-Dewey and her colleagues recently worked on a research and outreach project assessing the impact of COVID-19 on health behaviors. According to one of her award nominators, Grocke-Dewey utilized her Extension networks and connections to Montana communities to promote engagement from diverse demographic groups. She worked to make sure the results were shared with the communities, and the research also led to three peer-reviewed publications. Moreover, as a response to some of the research findings, Grocke-Dewey created new physical and mental health programming, including a series of mindfulness videos that Montanans can access from their own homes, as well as a series of MSU Extension publications on ways to better manage stress. In addition, Grocke-Dewey has provided leadership in partnerships that address opioid and farm stress challenges facing Montana.
Grocke-Dewey is "a wonderful ambassador for our state, for Montana State University and for mental health awareness and outreach in our country," the nominator wrote. "She is a true champion for mental health awareness and has a tireless commitment to serving our state."
As program manager on a federal grant, Munter provides education, outreach and training on opioid and stimulant medications with a focus on preventing the nonmedical use of these substances. Munter has been instrumental in the development of project materials and resources and is diligent when it comes to ensuring community partners are aware of and have access to all project resources, according to nomination materials. Munter is also known for demonstrating a strong work ethic, cultural humility and a willingness to learn.
"Her eagerness to get out to the rural counties and provide information and resources that will improve the well-being of its community members is her number one priority," one nominator wrote. "She understands the importance of bringing solid programming to the people and places of Montana."