Charles and Nora L. Wiley Award for Meritorious Research and Creativity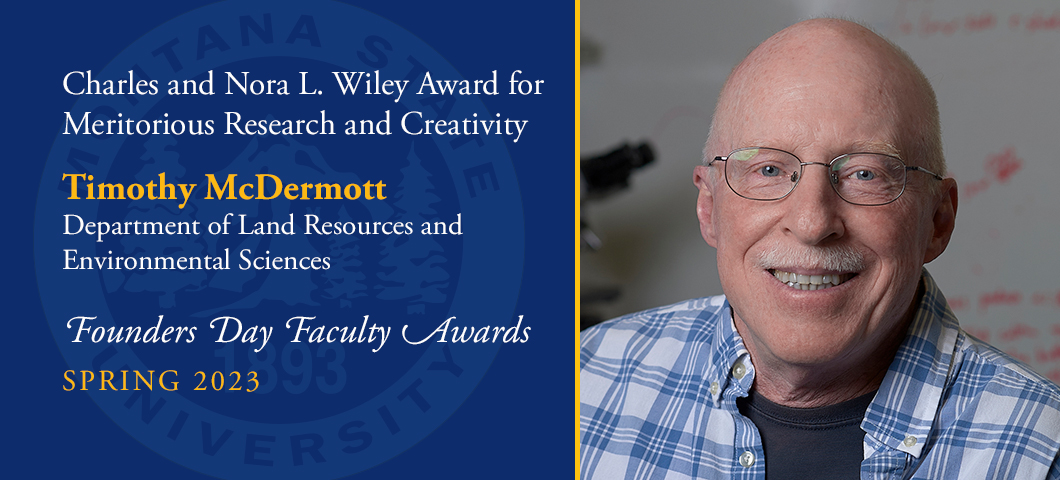 Timothy McDermott
Timothy R. McDermott, professor in the Department of Land Resources and Environmental Sciences, is the recipient of the MSU Wiley Award for Meritorious Research and Creativity. The award recognizes an MSU faculty member who has made a single, especially significant research achievement or who has a recent body of research work, either of which should be the product of extensive, mature research activity. Sponsored by the Wiley family and the Office of Research and Economic Development, this award comes with a $2,000 honorarium.
McDermott's research on methane in Yellowstone Lake in Yellowstone National Park over the course of 10 years has provided evidence of a biological methane process operating differently from previously known methanogenic pathways. His research set the stage for discovering a metabolic process that no one expected to exist — aerobic methane production — a biological mechanism now estimated to generate 15% of all biological methane, said Brian Bothner, MSU professor and director of Montana IDeA Network of Biomedical Research Excellence program.
McDermott's research on aerobic methane production, which includes a series of recent and in-progress publications, are part of "a scientific breakthrough of such singularity that the research community does not yet know the full scope of the finding," said Bothner.
Along with his contributions to understanding aerobic methane production, McDermott's additions to the current scientific understanding of arsenic biochemistry in microorganisms are among the top internationally known and cited works of the last two decades, said William Inskeep, professor in MSU's land resources and environmental sciences department.