Streamline
Streamline is Bozeman's fare free bus service and a program of the HRDC. It features 5 weekday routes that service MSU, neighborhoods, businesses, and Bozeman landmarks and are available between 6:30am and 7:15pm. Streamline also offers Late Night service, Saturday service, and weekday service to Livingston. Bus schedules, route maps, and more information can be found at the Streamline website or through their android and ios app, RouteShout.
Streamline is the smart choice for Bozeman commuters; it's fast, convenient and great for the environment. Plus, Streamline is partially funded through student fees, and was a result of a 1986 study by the MSU College of Engineering, so it has a history of service by students for students.
Accessibility
All Streamline buses are wheelchair accessible and provide a first come, first served bike rack system.
Weekday Routes

GREENLINE EXPRESS

YELLOWLINE UNIVERSITY

BLUELINE RETAIL

REDLINE DOWNTOWN

ORANGELINE UNIVERSITY

MSU Strand Union

Gallatin Valley Mall.

Four Corners

Belgrade

MSU Strand Union

Gallatin Valley Mall

Valley

Commons

MSU Strand Union
Downtown
Bridger Peaks
Gallatin Center

MSU Strand Union

Downtown

Gallatin Valley Mall

Bozeman High School

MSU Strand Union

Downtown

Public Library

Bozeman Deaconess Hospital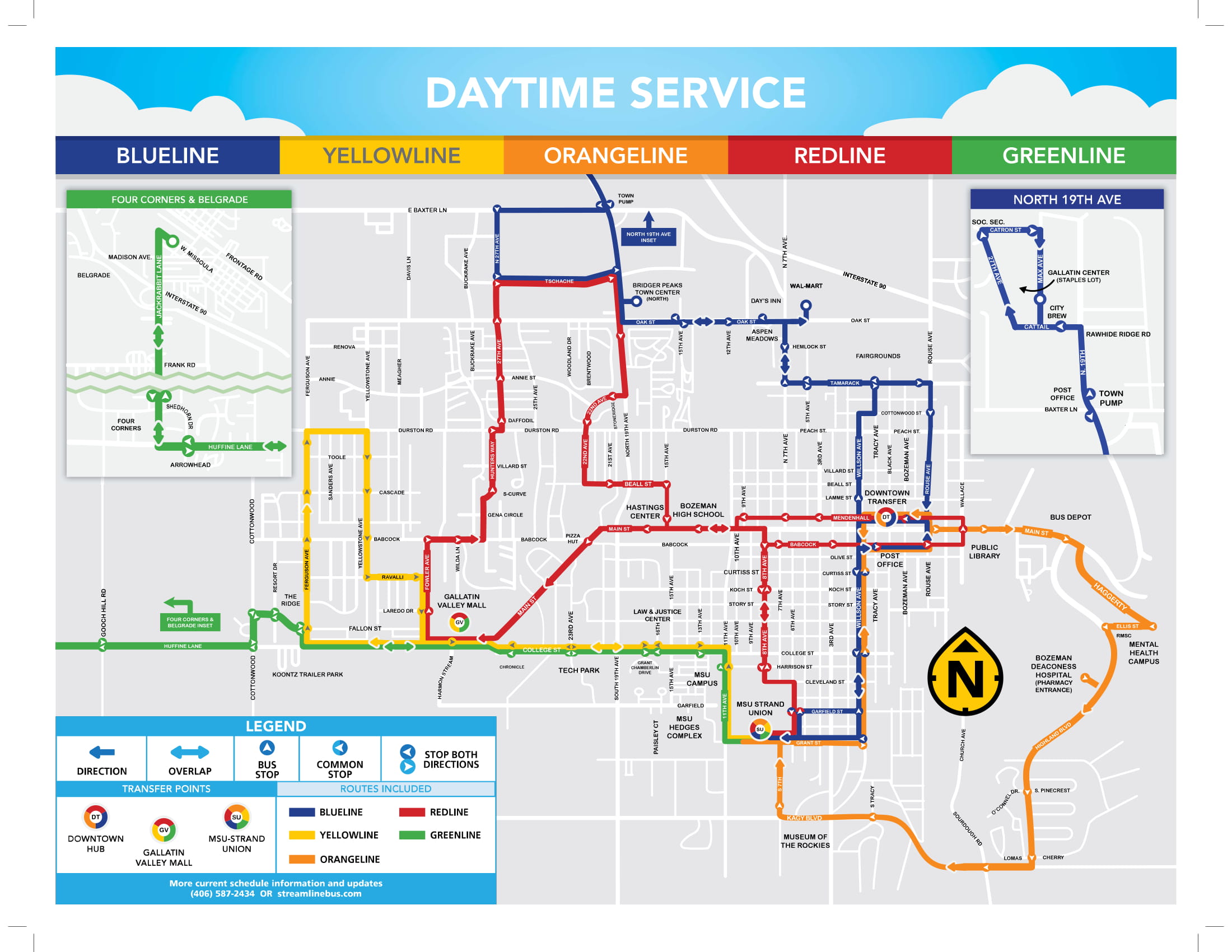 Paratransit
Streamline's paratransit service, Galavan, provides door-to-door transportation for those who are 60 and older and persons with disabilities. The lack of affordable transportation should not be a barrier to individual independence. Call 406-587-2434 by 3:00pm the day before your trip to schedule a ride.
Many seniors and people with disabilities are able to use the regular Streamline system. The Galavan office can assist users in deciding between Galavan and Streamline and navigating each system.
Bridger Bowl
Bridger Bowl contracts with FirstStudent to provide Weekend, Midweek, and Holiday service to-and-from the mountain. Users can access free Bridger Bowl buses at MSU's Strand Union Building, and the Gallatin County Fairgrounds Park 'N Ride lot.
Bus schedules and other transportation information can be found at the Bridger Bowl Website.
Big Sky
Skyline is the year-round bus link between Bozeman and Big Sky amenities, such as Lone Mountain Ranch, Meadow Village Center, and Big Sky Resort. The Skyline bus charges an affordable fee ($2.50/ride) between Bozeman and Big Sky and provides free local service within Big Sky.
Bus routes and schedules, season and punch pass rates, and other information can be found at the Sky Line Route Website.