Office of Sustainability staff engage with students at Catapalooza.
MSU offers opportunities for students, staff, faculty, and community members to engage in sustainability minded activities. Whether you're interested in guiding campus policy, snapping great photos, fighting for social justice, or getting in some fly fishing there is something here for you.
If you'd like to get involved, fill out this Google Form so that the Office of Sustainability can best support you.
Student Success Stories
Thanks to engaged students, MSU has made incredible progress toward becoming a sustainable campus. Check out the stories below to learn about student projects and get inspired!
Green Cats Program
Launched in the fall of 2020 by a student with the support of the MSU Office of Sustainability, The Green Office Program , the first iteration of the Green Cats Program, hoped to create a sense of agency for MSU faculty and staff members. The program targeted behavioral changes for individuals in MSU offices to reduce their environmental footprints, and aimed to cultivate a culture of sustainability on campus, as individuals are exposed ideas from the program, and sustainability concepts become commonplace in day-to-day operations and decision-making. By the end of spring 2021, it was apparent that more people across campus wanted to be part of the Green Office Program. Groups were reaching out to join the program, even if they did not operate in a traditional office setting. That is when the Green Cats program was born. Now, in addition to faculty and staff working in office spaces, the Green Cats Program reaches students living on campus, students associated with campus Greek Life, faculty working in research labs, and others, through the encompassed Green Office, Green Floor, Green Greek, and Green Labs programs.
If you'd like to join the Green Cats Program, please contact Paul Edlund at paul.edlund@ montana.edu. Green Cats Go!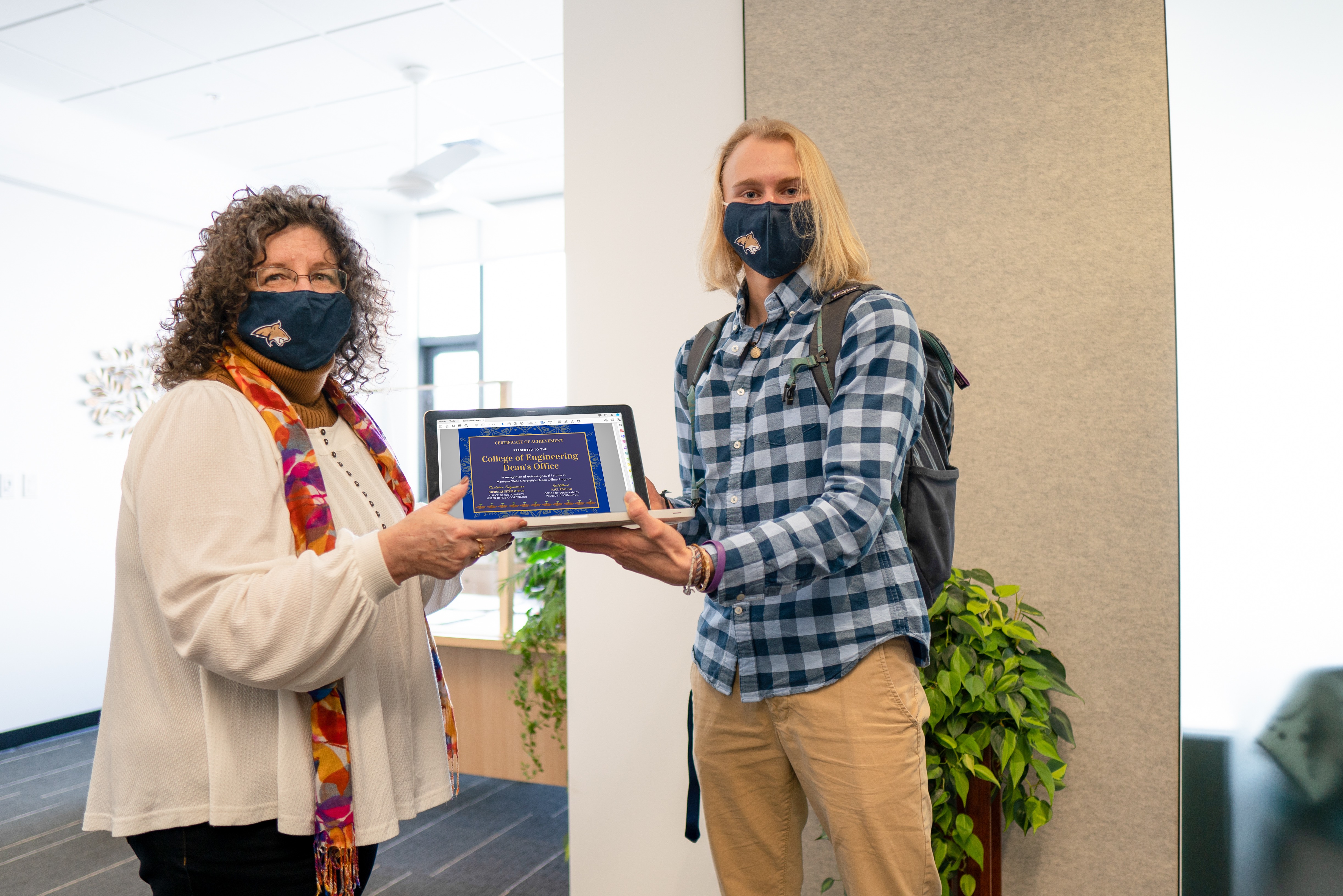 The College of Engineering Dean's Office receives a Green Office Certificate.
STARS (Sustainability Tracking, Assessment and Rating System)
The Sustainability Tracking, Assessment, and Rating System (STARS) is the reporting framework that MSU uses to quantify sustainability on our campus. MSU's first ever STARS report was filled out by an MSU undergraduate student. The STARS report enabled them to learn more about what MSU is doing, translate sustainability practices into metrics, and find out about what aspects of sustainability are out there. To complete the first iteration of the report, the student had meaningful conversations with people in varying roles in a variety of departments, from facilities to campus planning. The second MSU STARS report was also written by students. As MSU strives to reach a STARS Platinum rating by 2035, students will continue to play a pivotal role in assessing and improving campus sustainability efforts through STARS.
You can view the most current MSU STARS Report on the STARS website!
MSU Alumni Foundation committing to STARS goals
In the spring of 2022, the MSU Alumni Foundation, the private non-profit that manages MSU's multi-million dollar endowment, formed an "Investment Strategy Working Group." This working group was created in response to the ASMSU Student Senate and Faculty Senate resolutions declaring a climate crisis and formally endorsing MSU's Sustainability Framework. Two MSU undergraduate students were invited to be part of this group and represent the student voice in how this pool of money should be managed. Through a process of listening, learning, collaborating, and thoughtfully communicating with representatives of the Alumni Foundation, these two students successfully advocated for more sustainable investment strategies; in May of that same year, the MSU Alumni Foundation Board of Governors approved revisions to their Investment Policy so that it now aligns with the university's sustainability goals, specifically MSU's Sustainability Framework and the STARS report.
You can view the updated version of the Investment Policy here!
Solar Walls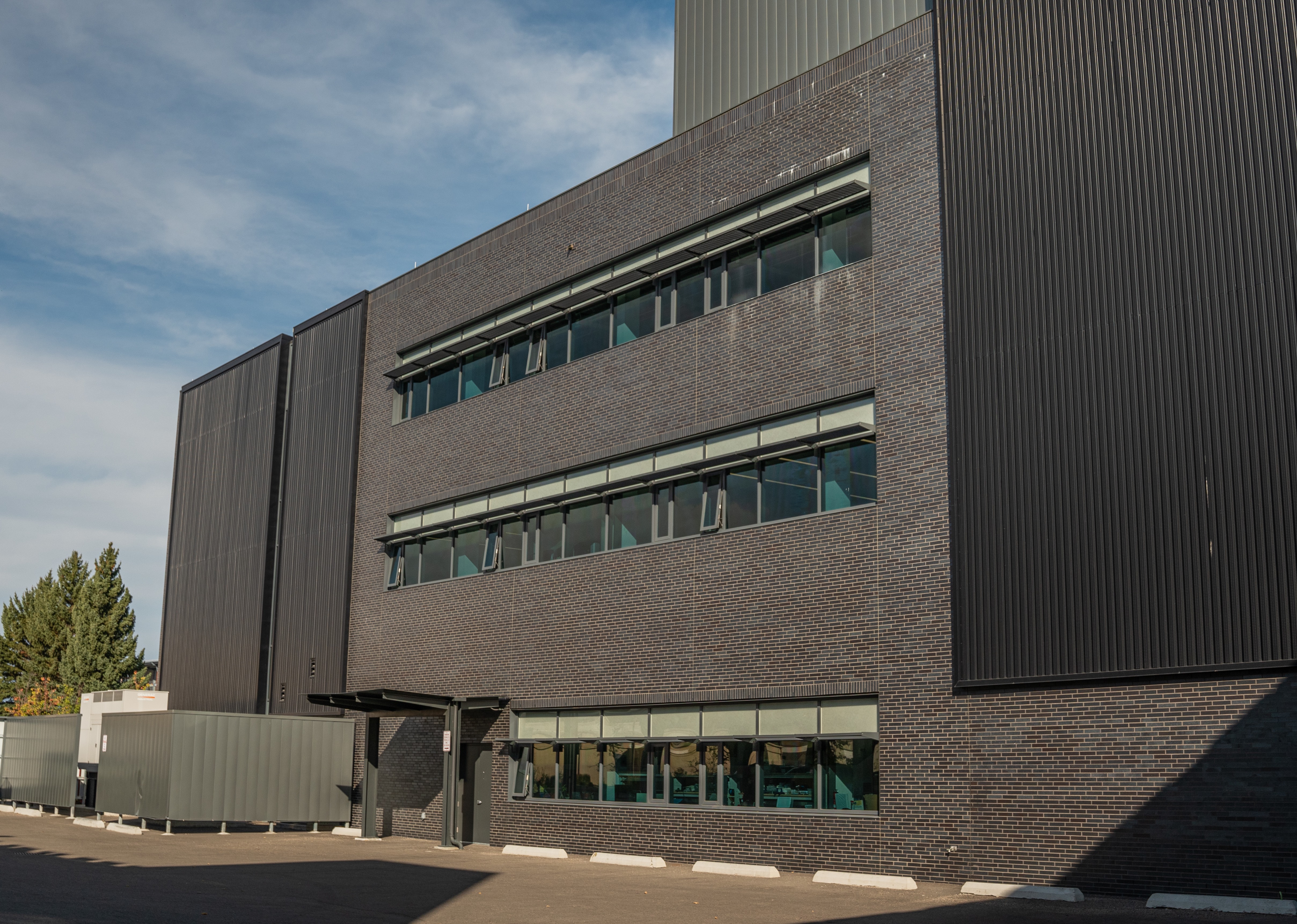 The solar wall on the south side of Norm Asbjornson Hall.
Visible on the sides of buildings across campus, from Jabs to Norm Asbjornson Hall, are large, black panels called passive solar walls, also known as unglazed transpired solar collectors. These solar walls reduce energy costs and increase energy efficiency by utilizing air heated by the warmth of the sun so that less air needs to be heated with steam from the steam plant, which uses natural gas. Even in the winter, solar walls can warm air to nearly 60 degrees! Thanks to research done by an undergraduate student in mechanical engineering technology in 2014, this sustainable technology has now become a staple of campus buildings. This student's research demonstrated how effective the solar walls can be by collecting data from a weather station on top of Jabs Hall, gathering data from sensors at various points within the solar wall, and by tracking the building's HVAC system. The solar walls are yet another instance of how "change is being shaped by MSU students who are learning from MSU's experience" (Reinventing energy).
You can read more about it in the news article: "​​MSU's new Jabs Hall receives passive solar wall" and click here to see daily data on NAH's solar wall usage!
Towne's Harvest Garden

Towne's Harvest Garden is MSU's five-acre diversified vegetable and educational research farm. The garden supports a student-run, community-supported agriculture (CSA) program. Beneficial to the community in more ways than one, Towne's Harvest provides food for 80 families through their CSA program, sells produce at the Bozeman Farmers' Market, and is a major contributor to the Gallatin Valley Food Bank and Bounty of the Bridgers campus food pantry. Additionally, Towne's Harvest has a mobile farm stand that serves low income seniors, promoting intergenerational interactions and relationship-building. Academic programs at MSU, such as landscape architecture and sustainable food and bioenergy systems (SFBS) utilize the garden for hands-on, interdisciplinary learning opportunities.
Student involvement has always been pivotal to the garden's operations, as a group of students initiated its creation in 2007. Despite facing initial challenges, such as setting up clean water irrigation and raising enough funds to cover costs, students were committed to overseeing the success of the project. Since then, with additional support from departments across campus, the garden has been able to expand to serve the needs of more students and community members.
You can get involved with Towne's Harvest Garden by purchasing a CSA share, sign up to volunteer, or register for a summer course!

Geothermal Systems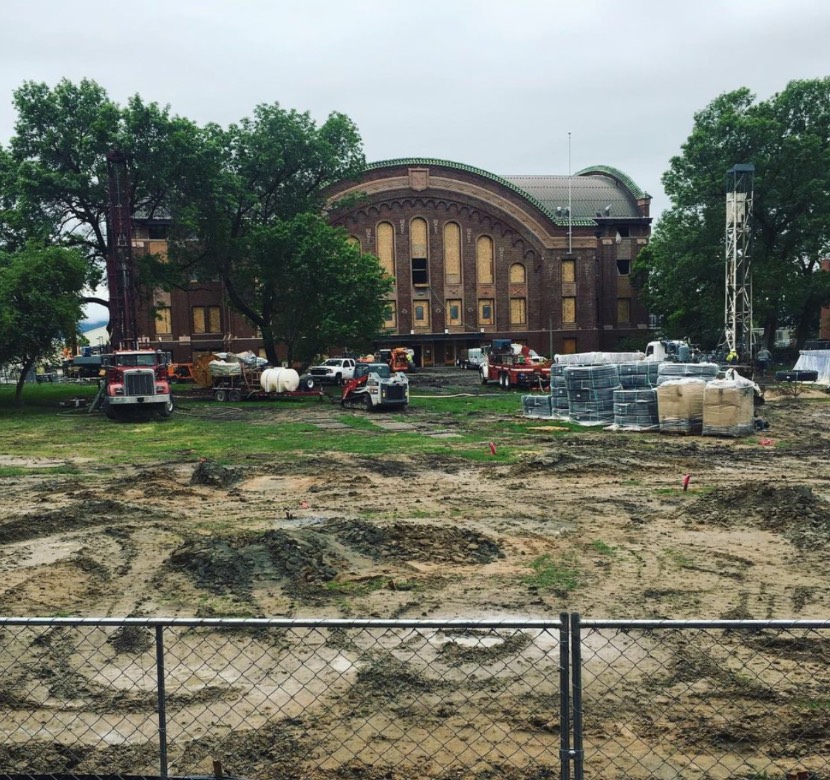 The Romney Oval geothermal field while under construction.
As MSU works to make the Bozeman campus more energy efficient, students have had the opportunity to get involved with fascinating and impactful projects. For example, students were instrumental in making geothermal systems a commonplace on campus. In 2012, a Mechanical Engineering undergraduate student was curious about the use of geothermal systems on our campus. This initial curiosity sparked further research into the viability of such a project. Because of that student's idea, MSU now has three geothermal fields located throughout campus, with the first constructed located on the field north of Jabs. Two other geothermal fields were later installed under Norm Asbjornson Hall and Romney Hall. The geothermal systems consist of many boreholes that go hundreds of feet below the surface of the Earth. The boreholes contain closed loop water pipes encased in a special grout.Together, the boreholes act like a giant battery for storing heat extracted by ventilation systems when a building is being cooled. The geothermal field below Romney Oval reduces MSU's associated carbon emissions by one million pounds per year, or about 20,000 metric tons over the lifetime of the system, and there are more than 22 miles of piping utilized in MSU's geothermal systems. The Romney Oval system also saves MSU $130,000 on energy bills annually. Geothermal technology is now considered an essential part of MSU's strategy to reduce energy usage and get closer to our 2040 goal of carbon neutrality, all thanks to an MSU student sharing an idea.
Sustainable Transportation Projects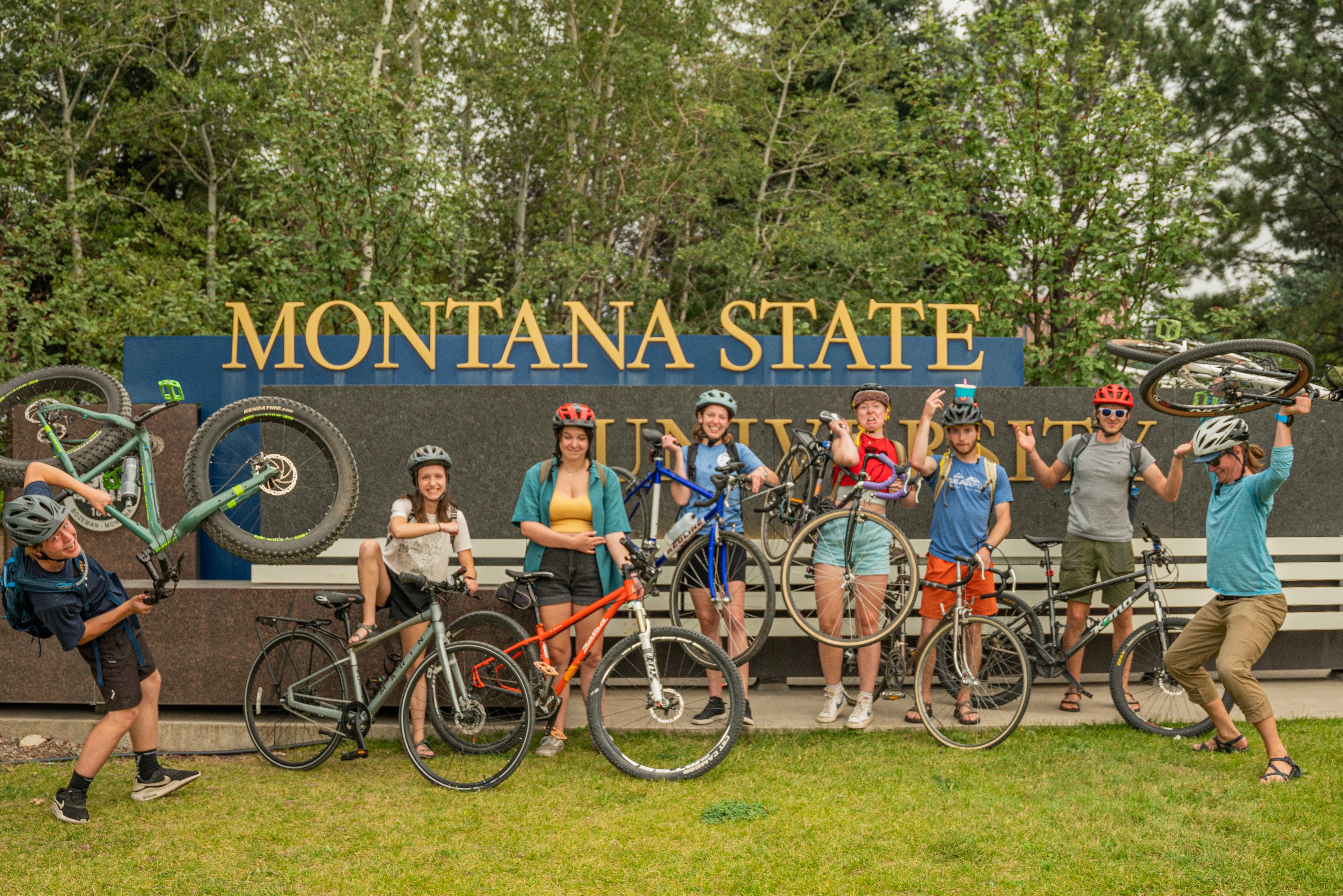 Students pose for a photo after the Bike Ride Boogie.
Students have been responsible for initiating critical conversations surrounding sustainable transportation and continue to catalyze positive change. Students have advocated for improving bike facilities at dorms, been part of the first bicycling-related campus-wide meeting, helped the university submit its first Bicycle Friendly University Application to the League of American Bicyclists, contributed to the MSU Bicycle Master Planand more. Bike racks used to be few in number, outdated, and not very visible to commuters. A class of architecture students even designed the covered bike parking that can be found outside of Cobleigh Hall. Thanks to the collaboration of students, faculty, and staff, bike racks have been updated and more intentionally integrated into campus. Overall, students have made sustainable transportation options more viable for the campus community by building momentum and encouraging improved amenities, facilities, and infrastructure for commuters.
Bounty of the Bridgers
Now a permanent food pantry on campus, Bounty of the Bridgers began with two Sustainable Food and Bioenergy Systems senior capstone projects in 2015. Bounty of the Bridgers has a dual mission of lowering food waste and decreasing food insecurity, which is experienced by about 30% of the student population. Students first conducted a needs assessment of food insecurity and food waste and then drafted an implementation plan. Even though the food pantry was institutionalized over the course of several years, the efforts to get the food bank up and running were all student driven, from start to finish. Bounty of the Bridgers integrates both the social and environmental components of sustainability by working with the Gallatin County Food Bank for food rescue and with Towne's Harvest Garden to offer fresh, organic, locally grown produce.
You can read more about it in an MSU News article titled "Bounty of the Bridgers: Banking food for MSU students in need." You can also volunteer by filling out a form at this link or donate shelf-stable food, household items, or produce.
Sustainability Now
The Sustainability Now (SNow) student club logo.
MSU is home to many student clubs, and many of those clubs deal with sustainability. One such club is Sustainability Now, or SNow, which aims to unify the student voice behind climate change and local sustainability. SNow was started in 2016 by a small group of MSU students hoping to create a space for students to connect with peers who have similar ideas and energy. SNow founders recognized that in order to make change, you need a community, and sometimes you need to be around the energy of others to keep you engaged. SNow is still an active student led club on campus.
You can find out more about SNow and learn how to join by visiting CatsConnect.
Sustainability Groups for Students
Montana State University is home to hundreds of student organizations, many of which are focused on sustainability. Visit CatsConnect to browse student organizations and connect with students that have similar interests! Use keywords like "sustainability", "environment","climate", and "earth", to help with your search.