Table of Contents
---
Fill out the google form at this link to sign up for our next Green Cats orientation! Don't hesitate to reach out to Green Cats Coordinators Nicholas Fitzmaurice and Paul Edlund in the Office of Sustainability with any questions.
What is the Green Cats Program?
Vision
To spread a culture of sustainability to students, faculty, and staff throughout Montana State University.
Mission
To provide the students, faculty, and staff of Montana State University with tangible action items to systematically reduce the environmental footprint of their day-to-day activities and increase their awareness of sustainability topics.
The Green Cats Story
The Green Office Program was launched in fall 2020 to create a sense of agency for MSU faculty and staff members as we work to reduce environmental impacts on campus. The program targets behavioral changes for individuals to reduce their environmental footprints. In launching the program, it was our hope to cultivate a culture of sustainability on campus, as individuals are exposed to the ideas from the program, and sustainability ideas become commonplace in day-to-day operations and decision-making. Additionally, we hoped to create a community of eco-conscious individuals across campus who could share ideas and learn about sustainability together.
By the end of spring 2021, it had become apparent that the Green Office Program was a program people at MSU wanted to be a part of. We had groups reaching out to join our program that did not even operate in traditional office spaces. Instead of turning those groups away, we asked ourselves how we could make the Green Office Program more inclusive. That is where Green Cats was born. Now, in addition to faculty and staff working in office spaces, we can reach students living on campus, students associated with campus Greek Life, faculty working in research labs, and others, through the encompassed Green Office, Green Floor, Green Greek, and Green Labs programs. This new program structure will allow us to continue expanding the Green Cats Program to perpetuate a culture of sustainability throughout campus, reaching all students, faculty, and staff.
I am only one, but I am one. I cannot do everything, but I can do something. And I will not let what I cannot do interfere with what I can do.

Edward Everett Hale
The Green Cats Structure
Green Cats is a dynamic program, continually expanding and adapting to meet the sustainability needs and capacities of the MSU campus. Several "Green" programs operate under the umbrella of Green Cats, and this list is subject to adapt and expand along with the Green Cats Program. Regardless of the affiliated Green Cats Branch, participating spaces will receive a Designated Green Space sticker (shown below) upon induction to the program. Look for these stickers across campus to identify participating Green Spaces!
Check out our Green Office, Green Greek, Green Floors, Green Labs, and Green... webpages!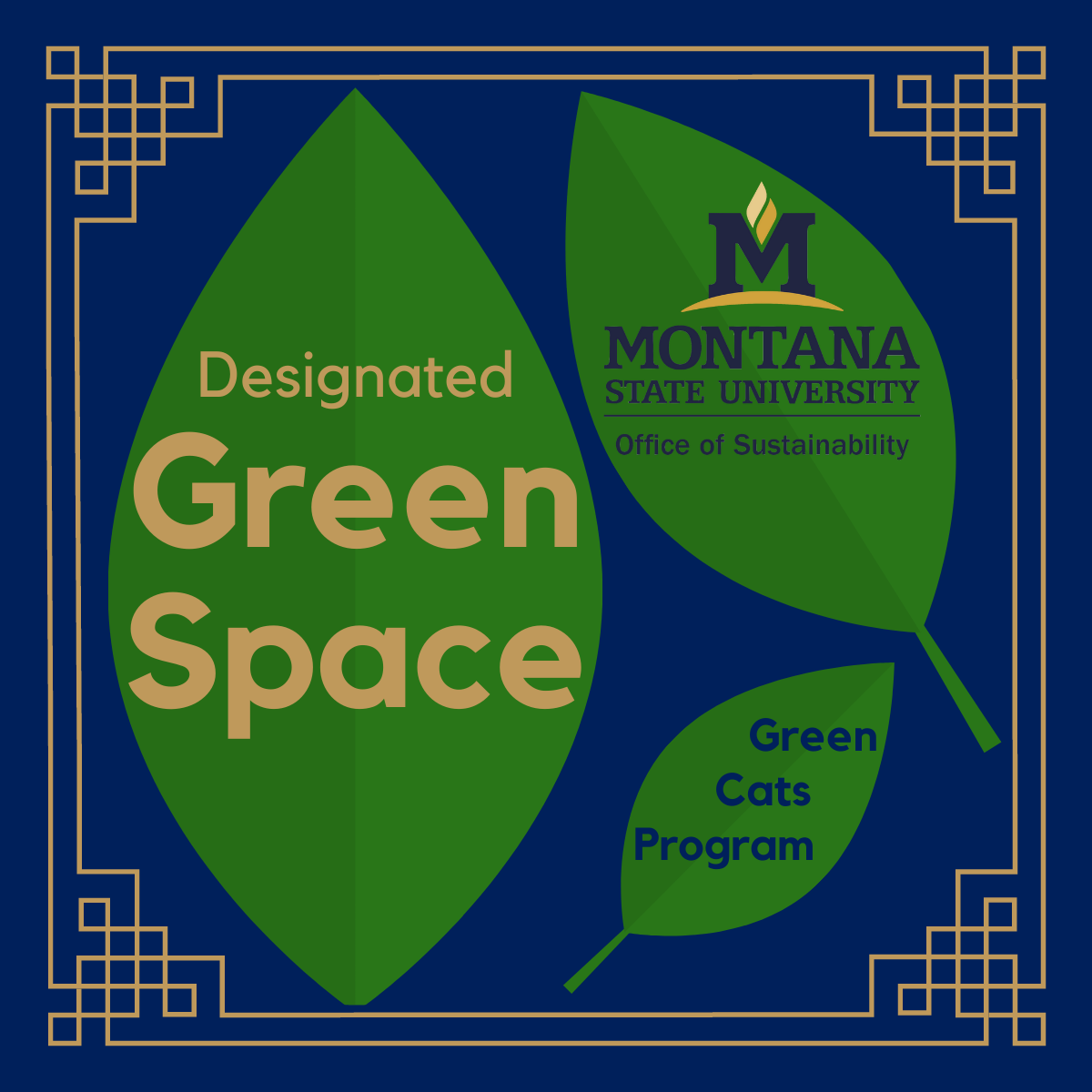 How does the program work?
Great question there, camper! The program works around three main tools: the Checklist, the Team Lead, and the Resources. The Checklist is an index of 75 different actions items a Green Space can use to assess the environmental impact of the operating space. The Team Lead completes the checklist, updates fellow Green Space team members, and decides what future strategies the space can implement to further reduce their environmental impact. The Green Cats Resources are a catalog of educational resources used to supplement the Green Cats Program. Team Leads and team members can use these resources to help achieve certain checklist items, or to learn about relevant sustainability topics.
The Checklist
Green Cats checklist consists of six separate tabs: an information sheet ("Read Me"), "Progress Dashboard," "Required Points," "1-Point Items," "2-Point Items," and "3-Point Items." In becoming part of the Green Cats program, spaces follow the steps listed in the "Read Me" tab, which includes achieving all the checklist items in the "Required Points" sheet and entering the number of office members into the "Progress Dashboard." Once this has been completed and an space is a part of the Green Cats program, they can begin filling in boxes on the 1- through 3-Point sheets, amassing points that can be viewed in the "Progress Dashboard." A space's status can be reviewed in this sheet, consisting of their current level, total points, points needed to achieve the next level, and approximate tons of CO2e mitigated per year based on the checklist items that have been completed. The program consists of four achievable Green Cats levels, reachable by meeting certain point thresholds.
Checklists are tailored for the branch of the Green Cats Program your Green Space fits within (Office, Greek, Floor, Lab, etc). Demo Checklists are available for download and inspection on our Green Cats Resources page.
The Green Cats Team Lead
This program is designed so the Team Lead has to commit no more than 10 hours per year in order to maintain their Green Space status. The responsibilities includes completing the checklist on an annual basis, attending the one-time Orientation, responding to occasional inquiries from the Office of Sustainability, and contributing to the culture of sustainability in their green space. Do you know someone in your space who might be interested in committing to this role?
The Green Cats Resources
Check out our Green Cats Resources page to learn about relevant sustainability topics and helpful tips for reducing your environmental footprint. Whether you are already part of a designated Green Space or you are just now learning about the Green Cats Program, these resources can be valuable to you!
FAQ