How to connect to Knox from a Mac
IMPORTANT: SMB3 must be enabled on your folder for the instructions below to work.
To request that SMB3 be enabled, complete the Knox Folder Request form.
If SMB3 is not enabled, when entering the path to your folder, use format shown in step 6 of the Windows 7 instructions instead of the way shown in step 4 below.
To create a server connection:
Click the Finder icon located in the dock.
Click Go on the menu bar, then click Connect to Server (figure 1).
Enter the address of your Knox folder in the Server Address field
(example: smb://knox.montana.edu/YourFolderName (figure 2).
Click the Connect button (figure 2).


The login window opens.

Enter your NetID and password (figure 3).



The Finder opens with your Knox Folder displayed.
Need Help?
Please contact the UIT Service Desk at 994-1777 or [email protected].
---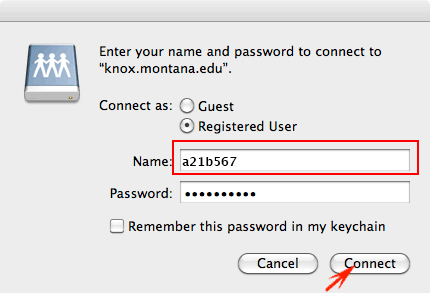 Figure 3. Login Window.
Return to top