2010 Freshman Convocation and Summer Reading
September 8, 2010
Brick Breeden Fieldhouse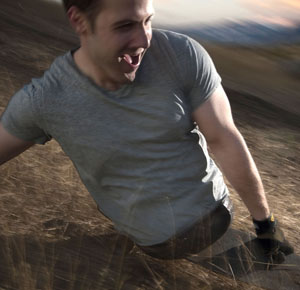 Speaker: Kevin Michael Connolly, author of DoubleTake
Kevin Michael Connolly has seen the world in a way most of us never will. Whether being swarmed by flocks of Japanese tourists at Epcot center as a child, or holding center court at the X Games on his monoski as a teenager, Kevin has been an object of curiosity since the day he was born without legs. He is a 2008 MSU Media and Theatre Arts grad. In an attempt to capture the stares of others, Kevin traveled to 17 countries on his skateboard and took over 30,000 photographs of people gaping at him. In this strikingly candid memoir, Connolly casts the lens inward to explore how we view ourselves and what it is to truly see another person. Written with considerable wit, DoubleTake is an unsentimental coming of age story that will change the way you look at others, and the way you see yourself.
This is your opportunity to meet peers, connect with faculty and staff, and listen to the inspiring words of author Kevin Connolly.
Read the MSU News article Connolly's 'Double Take' selected for MSU 2010 freshman convocation.


View Convocations: 2017 | 2016 |2015 | 2014 | 2013 | 2012 | 2011 | 2010 | 2009 | 2008 | 2007