2012 Freshman Convocation and Summer Reading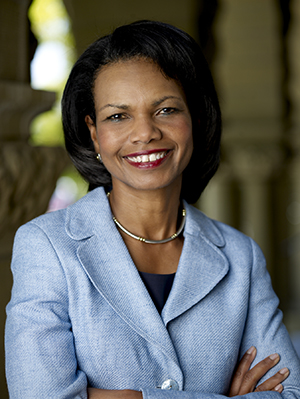 Photo courtesy of Condoleezza Rice.
Wednesday, September 5, 2012 at 7:30pm
Brick Breeden Fieldhouse
Free and open to the public
Tickets: Available beginning Monday, Aug. 6th at 10 a.m. at all Bobcat ticket outlets including: the Bobcat Ticket Office, Rosauers, the AskUs Desk at the SUB, by calling 994-CATS or (800) 325-7328 and online at www.ticketswest.com. There will be a handling charge per ticket for tickets ordered over the phone, online or at Rosauers. There will be a limit of two tickets per person.
Master Class with Dr. Condoleezza Rice
Prior to her lecture, Rice will conduct a master class with MSU students. Students who are interested in attending the class are invited to apply online at: https://www.surveymonkey.com/s/RiceMasterClass. Following review by a faculty committee, students who are accepted will be notified by Aug. 27. If selected, students will be required to attend a pre-master class at 4 p.m. Aug. 29.
Speaker: Condoleezza Rice, the former U.S. Secretary of State who is also an educator, musician and author
In addition to addressing MSU's incoming freshman class, Rice will also perform on the piano. An accomplished pianist, Rice has previously visited Bozeman, playing with the visiting Muir String Quartet and with Ilse-Mari Lee, a cellist who is also director of MSU's University Honors Program.
Rice served as the 66th U.S. Secretary of State from 2005 to 2009. She is currently a professor of political economy in the Stanford University Graduate School of Business. She is also the Thomas and Barbara Stephenson Senior Fellow on Public Policy at the Hoover Institution, based at Stanford and a professor of political science. She recently published a second memoir, "No Higher Honor: A Memoir of My Years in Washington," about her years as Secretary of State. An expert on Russia and the former Soviet Union, Rice has written four other books about diplomacy.
Summer Reading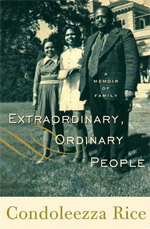 In connection with her appearance at MSU, Rice's memoir, "Extraordinary, Ordinary People," has been selected as MSU's 2012 freshman summer reading book.
"Extraordinary, Ordinary People" is Rice's memoir about growing up in the segregated South as well as the influence, support and guidance she received from her parents and mentors.
Students and members of the community who are wishing to learn more about books and people who have inspired Rice may be interested in reading books that Rice recommends because she has found them to be motivational. Those books are:
"I Know Why the Caged Bird Sings" by Maya Angelou.
"Unbroken: A World War II Story of Survival, Resilience and Redemption" by Laura Hillenbrand.
"Night" by Elie Wiesel
"Benjamin Franklin: An American Life" by Walter Isaacson.
"Alexander Hamilton" by Ron Chernow.
"Parting the Waters: America in the King Years 1954-53" by Taylor Branch
In anticipation of convocation and in conjunction with the Freshman Convocation Summer Read program, MSU Library will host three book discussions of Condoleezza Rice's memoir Extraordinary, Ordinary People. Students, staff, faculty and community members are invited to join in one or more of these summer discussions. Circulating copies of Rice's memoir are available in the New Books browsing area of the library.
Brown bag discussions will be held on the following dates:
Wednesday, June 13
Wednesday, July 11
Tuesday, August 14
Discussions will be held from 12 – 1 p.m. in the Renne Library Administration Conference Room (CR1). All are welcome!
MSU News: Condoleezza Rice to speak at MSU 2012 Freshman Convocation set Sept. 5


View Convocations: 2017 | 2016 |2015 | 2014 | 2013 | 2012 | 2011 | 2010 | 2009 | 2008 | 2007