2011 Freshman Convocation and Summer Reading

Wednesday, September 7, 7:30pm
Brick Breeden Fieldhouse
Free and open to the public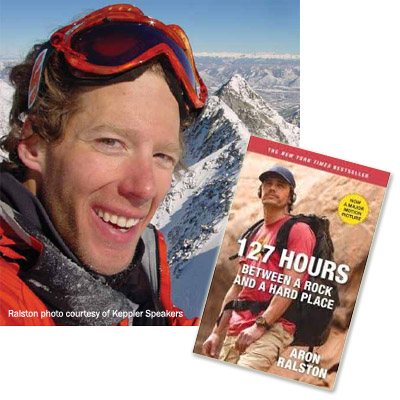 Speaker: Presentation by Aron Ralston, author of Between a Rock and a Hard Place; Mountain climber and inspiration for the Film 127 Hours
In 2003 Aron Ralston's story made headlines worldwide. After being pinned by a half-ton boulder for nearly a week in a remote three-foot-wide slot canyon in southern Utah, Ralston narrowly escaped death by severing his right forearm with a dull pocketknife. After applying a tourniquet, he hiked and rappelled for five hours through Blue John Canyon before searchers miraculously rescued him. Ralston documented the life-altering experience and his remarkable will to survive in his New York Times best-selling book, Between a Rock and a Hard Place. His story has been adapted into a movie by Oscar-winning director Danny Boyle. The film, 127 Hours, was nominated for the Academy Awards' Best Picture. Ralston graduated as Carnegie Mellon University's top student in mechanical engineering in 1997, with Phi Beta Kappa honors for a second degree in French. He left his job as a mechanical engineer with Intel in 2002 to follow his passion for outdoor adventures in Colorado. Aided by radical prosthetic devices that he helped design, Ralston has expanded his adventures to the world's great peaks, deserts and rivers. He is the only person to have solo climbed all 59 of Colorado's 14,000-foot-high mountains in winter and the only person with a disability to have skied from the summit of Denali, North America's tallest mountain.
Summer Reading
In preparation for joining the Montana State University community, all incoming students are to read Aron Ralston's Between a Rock and a Hard Place. This book is required for all students enrolled in First-Year Seminars including US101, CLS101 and UH 201US. Parents are also encouraged to read the book. This inspiring story has been selected by MSU faculty and staff as having value for all college-bound students in any area of study. We will read this book over the summer and look forward to hearing your thoughts about it when you join us in August. Between a Rock and a Hard Place is available in bookstores nationwide and through many online retailers.
For more information, please contact Dr. Greg Young, Vice Provost for Undergraduate Education at (406) 994-4371 or gyoung@montana.edu.
If you have a disability and would like to request Between a Rock and a Hard Place in an alternative format, please contact Disability Student Services at 406-994-2824.


View Convocations: 2017 | 2016 |2015 | 2014 | 2013 | 2012 | 2011 | 2010 | 2009 | 2008 | 2007