Over the last 25 years, Sparky the Truck has had many lives. Sparky began service to the university as a gasoline powered 1986 Chevy ST standard cab, long box pickup truck used by Facilities Services heating plant for campus maintenance purposes. Sparky was almost retired from service until he was given new life by former technology professor Ken Bruwelheide (now retired).
Bruwelheide decided that his students would benefit from a real life experience—overhauling a gas-powered vehicle into an alternate energy vehicle.
In 2002, after he secured funding from several corporate sponsors, Bruwelheide approached the transportation department at MSU's Facilities Service and asked, "If we build the vehicle, will you test it for us?"
Director of Facilities Services, Jeff Butler, agreed and gave Bruwelheide the failing truck to construct a first generation electric battery powered vehicle. In addition, he partnered with many businesses, which provided support. Canadian Electric Vehicle provided a conversion kit, Exide Battery in Billings donated batteries, Firestone Tires donated tires, and Tom's Alignment helped work on the suspension.
"The class tore the truck apart, and then put it back together," said Bruwelheide. "And only one wire was hooked up wrong."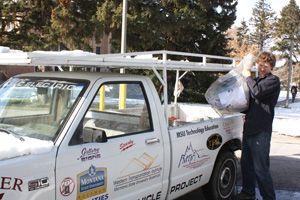 Aaron Watson and Sparky pick up recycling on MSU campus.
As the students rebuilt the truck, a webcam of their progress was broadcast to technology education classes around the state.
The converted truck, which was good for only low speeds and short distances, was tested by technology education students for range and battery charge. Students found it averaged about 22 miles between charges.
"Students enjoyed working on the project and were surprised at how easily a vehicle could be adapted," said Bruwelheide, "though it was rather expensive."
During the Montana Teachers Association meeting in the fall of 2003, Bruwelheide and students put the truck on a trailer and towed it to Billings to show other technology education teachers attending the meeting.
Two years later, Bruwelheide decided to improve the truck's energy efficiency and installed six solar panels to move the vehicle to the second generation. Now the truck would be electric and battery powered, but the battery could be recharged by the solar panels.
"It would never have to be plugged in again," Bruwelheide said of the truck they named Sparky.
Rob Hebert with Transportation Services said Sparky was put to good use for several years by Facilities administrative staff that used it to get around campus.
Most recently, Sparky has found a new home with the ASMSU Sustainability Center. Founded two years ago and funded by student-voted fees, the center runs the recycling program for campus buildings. Each week during the school year, student employees of the center run five recycling routes to collect recycled cans, plastic, paper, and magazines from bins placed in buildings on campus. Because of its smaller size, Sparky is easy to maneuver quietly around campus.
"Sparky was a perfect fit," said Gretchen Hooker, director of the center. "The students have fun with the fact that it's a solar vehicle."
Hooker says Facilities still owns Sparky and keeps it plugged in and maintained, but loans it to the Sustainability Center at no cost.
Aaron Watson, an MSU student and lead recycler, said Sparky never has to be plugged in during the summer, but he did note a few eccentricities with the vehicle.
"It doesn't have any power steering, and it only receives two radio stations," said Watson with a laugh. "But having the solar panels makes up for that."
It's safe to say, though, that Sparky will be a part of MSU for years to come. Who knows where Sparky will be asked to serve next?