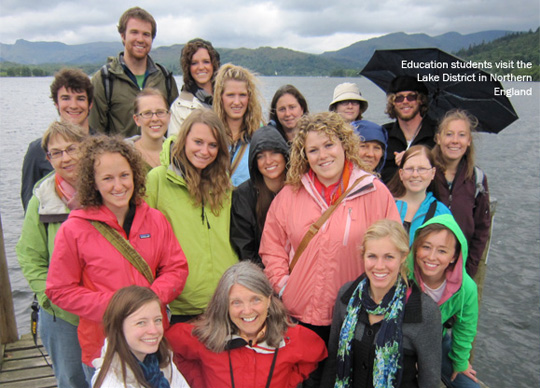 When people read books, they often create an image in their minds of what the setting might look like. For education students at MSU this past summer, they didn't have to wonder. They actually visited sites in France and England where many of the books they read in literacy class were set.
After spring semester ended in May, 17 students met for a one-week, intensive, integrated class to get ready for their three weeks abroad. Joyce Herbeck, associate professor of education, said the class was actually "three classes in one week" taught by three instructors, who accompanied the students to Europe. Herbeck taught the children's literature section; Kim Boehler, adjunct instructor, taught the art methods section; and former MSU professor Judi Franzak (now at the University of New Mexico) taught the young adult literacy section.
Elementary education major Michael Korczyk, a senior from Coeur d'Alene, Idaho, said he had always wanted to study abroad.
"It sounded like a blast," said Korczyk. "I liked the idea of gaining background knowledge before going to the actual place we'd read about."
Before the trip, students were required to read around 20 books—picture books, children's books, and young adult books— and they also did an in-depth study online of several books, whose authors they would meet in Europe. The instructors designed the trip with the help of the Office of International Programs at MSU and said places were chosen because they related to the books and art studied.
"Students participated in activities with the books that go along with critical literacy," said Herbeck. "Critical literacy gets student to question the text and look at social justice issues."
Korczyk said, "You get such a historical perspective from books, and then you get to see where the books took place."
Herbeck said critical literacy shapes us as a person and changes how we view the world. For many of the students, this was the first time they had traveled outside of the United States.
Meghan Larson, a senior in elementary education from Cut Bank, Mont., said she had never been out of the country.
"I heard about the trip three years ago when the last group went to Europe," said Larson. "I thought it was too good of an opportunity to pass up." Larson added that the trip was a "real world experience," and as a future teacher, it would make it easier to teach the books to a classroom of children.
Impromptu class at the Louvre
One of the unique aspects of the trip was spending time with living authors and illustrators of books they had read.
At the Chantelivre bookstore in Paris, students met Olivier Tallec, illustrator of the picture book, "Big Wolf, Little Wolf." An illustrator of over 50 children's books, Tallec shared his process of illustrating books. In Stratford, England, they met Celia Rees, author of "Fool's Girl" and 17 books for young adults.
"Celia even showed us the exact spot along the Avon River where she got the idea for "Fool's Girl,"" said Herbeck.
Korczyk was so impressed that well-known authors and illustrators took the time to meet with college students.
"We got to hear their stories and found out they are incredibly nice people," Korczyk said. "They're brilliant at what they do, but are very approachable."
Korczyk said Rees was also a teacher, and they had fun "bouncing ideas around about how she teaches."
While students were learning about literacy and books, Boehler also integrated the art component into the trip.
"The emphasis of this class was on response first, then used of language, followed by practice with materials," said Boehler.
Students learned about the four domains in art methods class—process, art language, making historical and cultural connections, and aesthetics. Boehler said today's education students need to know what these domains look like in a classroom setting.
"We practiced and applied the domains everywhere we went," said Boehler. "It's important because we are being asked to meet state and national standards."
In addition to meeting authors and illustrators, the group also toured many famous museums, art galleries, and historical locations. They spent the first week in France and toured the catacombs in Paris, saw artist Claude Monet's home, visited the Louvre Art Museum, and saw Chartres Cathedral.
Larson said her favorite part of the trip was visiting Omaha Beach, where one of the deadliest invasions of D-Day took place.
"I had a personal connection," said Larson. "My grandpa landed there in World War II."
While in France, several students—Korczyk, Christy Johnson, and Megan Broadston—wrote a blog and shared photos with Sue Stolp's seventh grade communication arts class at Sacajawea Middle School in Bozeman. The three students had worked with Stolp's class on the book, "Revolution" by Jennifer Donnelly.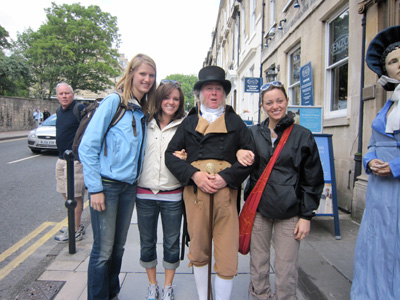 Jane Austin's museum in Bath
From France, the group traveled by EuroStar (chunnel) to England, where they continued to visit places connected to children's books—places such as the Roald Dahl museum in Great Missenden ("Charlie and the Chocolate Factory"), the C.S. Lewis home in Oxford ("The Lion, the Witch and the Wardrobe"), Shakespeare's home, Jane Austin's museum in Bath ,and Beatrix Potter's home in the Lake District of England (Peter Rabbit stories.)
In Cornwall, they met author Phillip Reeve and his family at the Two Bridges Hotel for tea. Reeve took the travelers on a hike to an ancient oak wood and talked about his book "Here Lies Arthur. " He even blogged about his visit with MSU students on his web site.
As they traveled, students designed a unit from the books and their experiences abroad, incorporating art and literature into an integrated unit to teach to a class of children.
Korczyk picked the book "Here Lies Arthur" by Phillip Reeve and the Bayeux Tapestry, an embroidered 230-foot long wall hanging depicting the Battle of Hastings in 1066, to get students to contemplate truth and heroes.
"In the Bayeux Tapestry, the king of England at the time looks like a coward, and in "Here Lies Arthur," the writer explores the legend of King Arthur and discovers how the legend came to be," said Korczyk. "I want my students to critically discover both sides of history from an objective point of view. There are always two sides to every story."
Korczyk concluded by saying, "The great part of our trip was that we got to discover how powerful it is to not only learn about something, but see where the story or event took place."