The histology core facility at Montana State University provides histological services using standard histological techniques. The histology core is part of Microbiology and Immunology and is in Marsh Lab room 12. The core can provide paraffin and frozen sections, Immuohistochemistry, processing, embedding, and routine staining of tissues by the staff (fees provided below). With approved training, individual lab personnel may also use the equipment for a fee. Contact Maria Jerome at [email protected] or 994-7495 with further questions.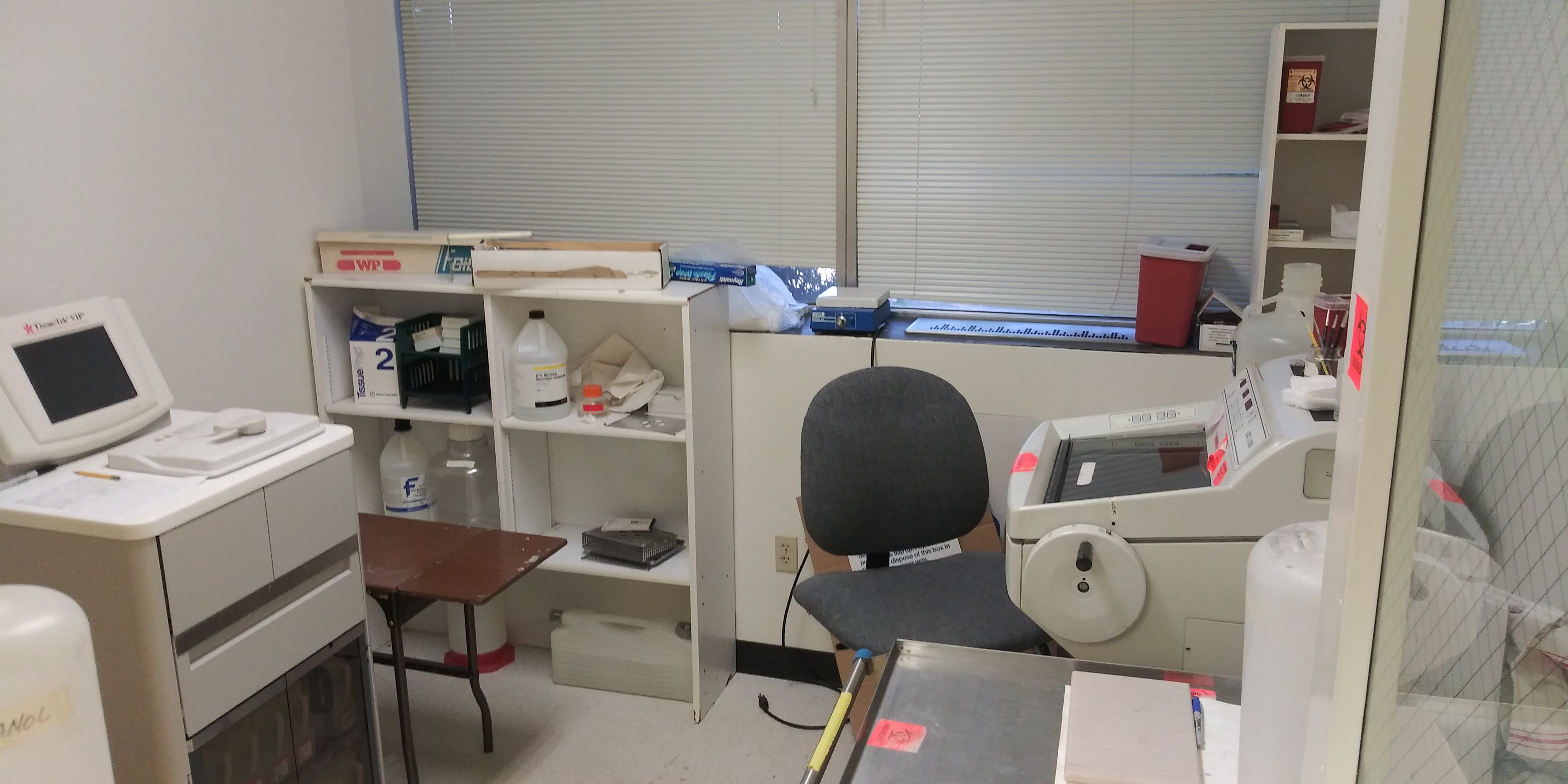 The histology lab has a Leica cryostat for sectioning frozen sections and a VIP6 processor which dehydrates tissues for paraffin sections.
Histopathology Fees
Paraffin Processing:
Tissues submitted to the lab in 70% ETOH (no Formalin, NBF) in labeled cassette or container if you don't have cassettes. Histology lab will make sure the appropriate size cassette is used before processing. If processing very small samples such as mouse eyes, Organoids, or similar sized tissues please make sure to use cassettes with smaller vents. Tissues will shrink and can be pulled through the vents if too large while processing.
Tissue submitted in 70% ETOH, processed and embedded $6.00 per cassette
Processing $4.00 per cassette
Embedding $2.00 per cassette
Unstained Section on one slide $1.50 per slide
H & E stained slide $2.50 per slide
TRAP stained slide (PI supplies the reagents) $4.00 per slide
Toluidine Blue Stained slide $2.50 per slide
Giemsa, Masons Trichrome $10.00 per slide
PAS TUNEL Stain (PI supplies reagents) $6.00 per slide
Special requests for stains if dyes must be ordered -cost dependent Price TBD
Immunohistochemistry stains requiring enzyme digestion or $12.50 per slide
Antigen Retrieval of paraffin embedded tissue. (PI supplies Antibodies)
Usage of Facility equipment and stations:
Processing $4.00 per cassette
Embedding station $1.00 per cassette
Microtome $15.00 per hour
Cryostat $20.00 per hour
Staining station (deparaffinizing and H & E) $10.00 per hour
Frozen Sectioning:
Snap freezing tissues $5.00 per block
Unstained frozen section $1.50 per slide
H&E stained frozen section $2.50 per slide
Bone Histotechniques:
Decalcification 15% Formic Acid $1.50 per tissue/cassette
Decalcification EDTA $2.50 per tissue/cassette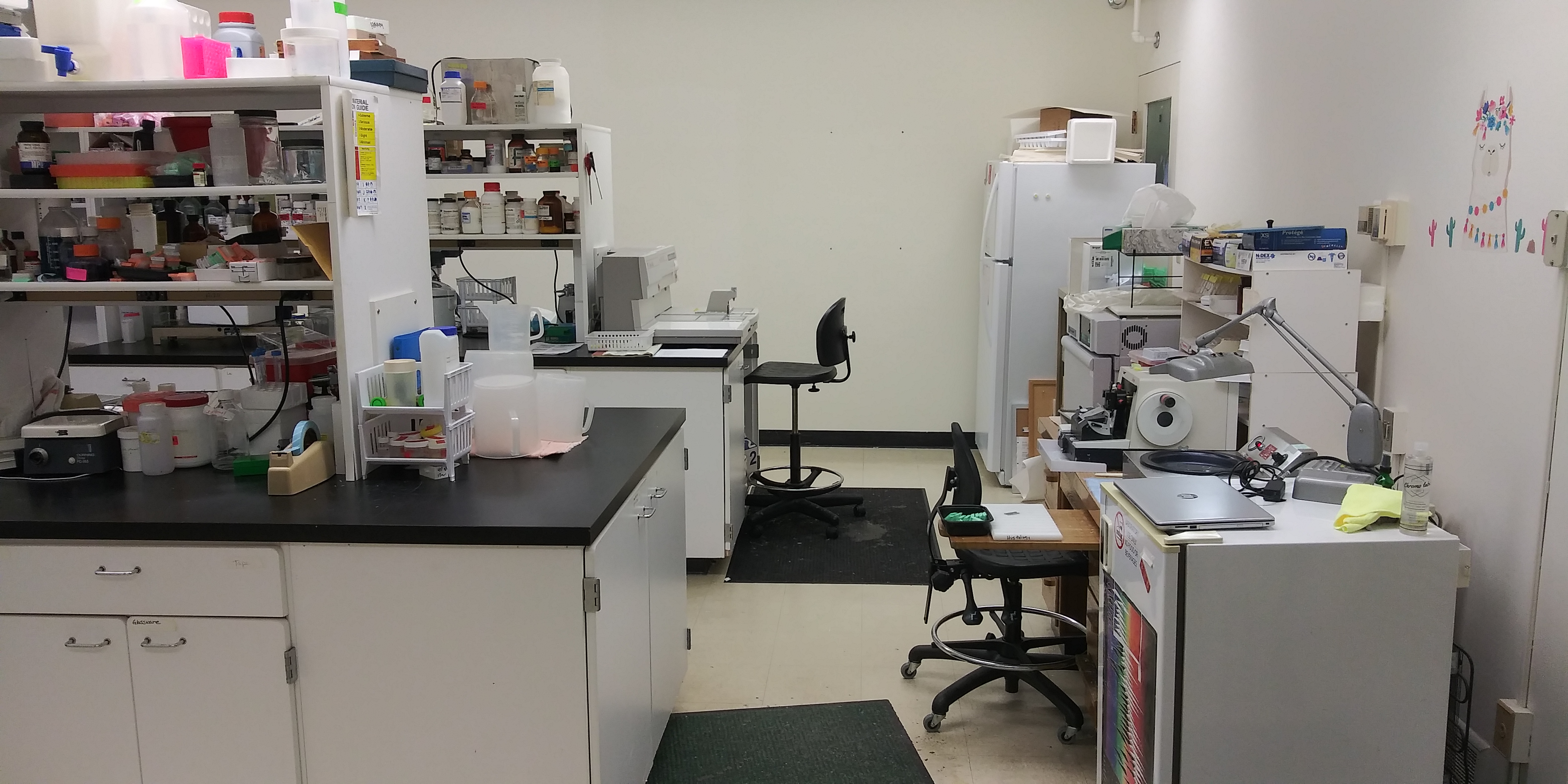 The lab has a Leica microtome for sectioning paraffin embedded tissue. There is also a Tissue Tek paraffin embedding station.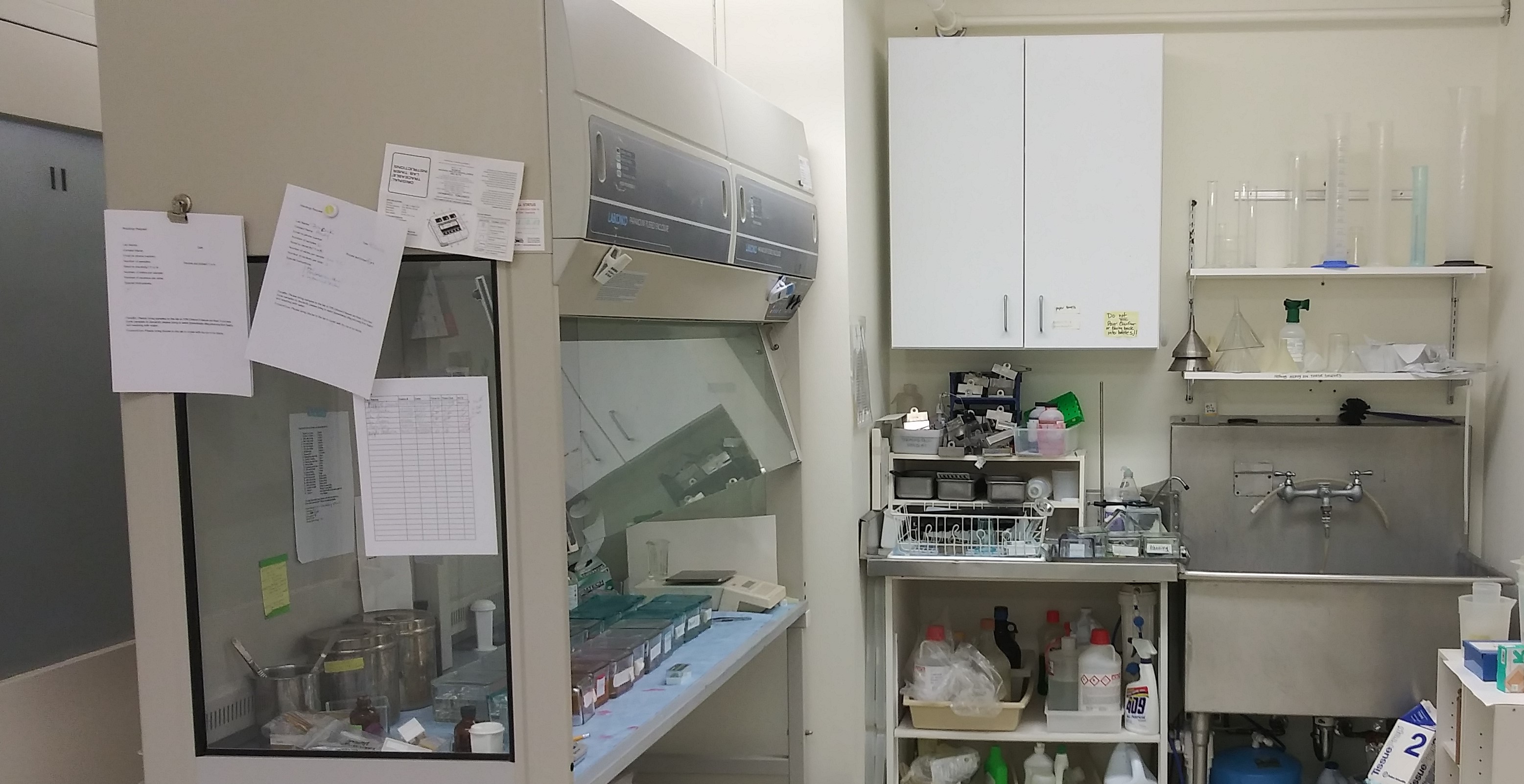 Histology lab has a slide staining station set up for immediate use.