Montana Harvest of the Month
About Harvest of the Month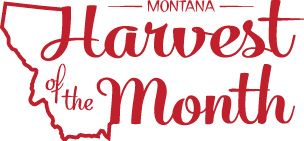 The Montana Harvest of the Month program showcases Montana grown foods in Montana schools and communities. This program is a collaboration between the Office of Public Instruction, Montana Team Nutrition Program, the National Center for Appropriate Technology, Montana State University Extension, Gallatin Valley Farm to School, and FoodCorps Montana. Funds were provided in part by a USDA Team Nutrition Training grant, a USDA Farm to School grant, Montana Healthcare Foundation, Northern Pulse Growers Association, Montana Department of Public Health and Human Services, and Montana School Nutrition Association.
Project evaluation is led by Dr. Carmen Byker Shanks of the Food and Health Lab at Montana State University. Original artwork was created by Anthony Maughan.
Each month, the schools participating in the program focus on promoting one locally grown item (e.g., winter squash) by serving it in a meal, offering taste tests to students, and doing educational lessons and activities surrounding both the nutritional and agricultural aspects of the food. The two primary goals for this program are to expose students to new, healthy foods and to support Montana's farmers and ranchers. Shown below is the calendar of items.
Looking for information about upcoming events and contests? Click here.
Calendar for September 2017 - June 2018

Register Now
Registrations will be accepted throughout the school year.
Is Your Program Registered?
Click on the map on the right to see if there is a registered site near you. Contact the school principal or afterschool program coordinator in your area if you are interested in joining their team or would like to help them implement Montana Harvest of the Month.
Need More Information?

If you are building your team and need more information and resources, check out the Resources page for handouts and additional information you can share before registering. Once registered, your school or afterschool program will have access to all of the materials, resources, and guides in electronic format and will be mailed your packet.
Food producers want to learn how to be involved? Watch the Harvest of the Month for Producers Training Video here
If you have questions contact Aubree Roth, Montana Farm to School Coordinator at aubree.roth@montana.edu or (406) 994-5996.