Intro to School Gardens
School gardens provide wonderful hands-on learning opportunities for students of all ages. Using school garden produce in the cafeteria for meals or
taste tests is a great way to strengthen the connections students are making about where food comes from, and kids are more likely to try new foods if they grew those foods themselves!
Over 7,000 schools across the nation reported having a school garden in the 2013-2014 school year according to the USDA Farm to School Census, including many schools Montana. Read the Hinsdale School Success story about an inspiring school garden in Hinsdale, Montana, and then check out this USDA fact sheet for great tips and examples of ways schools in other states are utilizing school gardens.
Starting a Garden
Children at Hinsdale School learn season extension techniques while enjoying tasty winter spinach.
Yes, we can grow beautiful school gardens in Montana! For a garden to be successful, teachers, administration and other members of the school Below are a few basic action steps for starting a school garden.
Step 1 - Build a Team and Garner Support
It is critical that stakeholders in the school are committed to the success of the garden. The garden will need care during the summer and the more people who want to utilize it both during the school year and the summer, the better! Share research on the value of school gardens and success stories from other Montana schools with teachers, administration, parents and community groups.
Step 2 -
Secure Funding and Supplies
Various garden grants are available for schools. Search these funding resources and this list of garden grants. Also consider the PTA, local businesses, organizations, and non-profits, as a local group may want to contribute time, money, seeds, or supplies to the garden. Montana Conversation Districts offer education mini-grants on a quarterly basis.
Step 3 -
Select Site and Method
There are many ways to garden, including indoor gardens and container gardens. Consider your options before deciding on what is best for your school, and discuss the following when selecting a method and/or site for your unique garden.
Necessities: Access to water, available clean soil or the ability to secure it, sunlight (recommended somewhere that gets at least eight hours of sunlight a day).

Good to Consider: Fencing, access to bathrooms, flat land so water will not pool, space for an "outdoor classroom" with seating or area for classes to sit, options for composting if you are going to compost at the school.
Consider the safety of the location and materials. This Safety in the Little Gardeners' Garden fact sheet provides detailed considerations and resources.
Would you like some help picking out a good spot for your garden or deciding what method would be best for your school? Call your local county Extension Agent to ask for their input. The Extension agent can also put you in touch with Master Gardeners who can serve as valuable resources and potential volunteers when it comes time to start your garden and plant, weed or harvest!
Step 4 -
Plan for Use
Working with the team and teachers or volunteers, plan for what to plant and what you would like to do with the produce once it grows.
Refer to this Can I Grow That Here? Mont Guide from MSU Extension for specific vegetables that can be grown in Montana and when to plant them.
Check out this School Garden Calendar for ideas and tasks that can be done year-round.
Review the Lessons in the Garden section below and share ideas with teachers and volunteers for getting the kids working in the garden.
Before serving produce in the cafeteria as part of a meal or taste test, review the Using Garden Produce section below.
Using Garden Produce
Did you know that school garden produce can be donated or purchased to be used in the cafeteria? It's true, and here are some rules and regulations to be aware of before purchasing or serving garden produce in the cafeteria or even during gardening activities.
Food Safety: Before serving those freshly picked carrots on the lunch line, review this overview of

Food Safety in the School Garden

.

It is strongly recommended that you connect with your county sanitarian for your garden and compost projects in case they require a few soil or water tests.
This short document USDA Q&A - Using School Food Service Funds for Farm to School - 2009 answers questions regarding school food service funds going to gardens, such as "Can the school food service purchase produce from another school organization that is maintaining and managing the garden, such as Future Farmers of America (FFA)?" (By the way, the answer is YES!) Check it out for the rules and good ideas for supporting the garden and using the produce from your garden in the cafeteria. For more information on using school food funds to support school gardens and farm to school activities, you can read this document from the USDA entitled USDA Q&A - Using School Food Service Funds for Farm to School - 2014.
Lessons in the Garden
The garden can serve as an outdoor classroom for all teachers, as well as a place to enhance the learning and activitiesof the afterschool program, summer camp, or a Garden Club. You are only limited by your imagination (okay, and time and weather) for how to support curriculum-based teaching and exploratory outdoor learning. Also visit the K-12 Food Education page for additional information and resources on lessons.
Collective School Garden Network's Curriculum Database: Search for curriculum guides, lessons, and more with this database.
The Edible Schoolyard:The Edible Schoolyard (ESY) is a program of the Chez Panisse Foundation. Website resources include garden lesson, kitchen lessons and classroom lessons, all searchable by Grade, Subject, and Season on their Resources page.
USDA Team Nutrition's Grow it, Try it, Like it,Great Garden Detective Adventure, and Dig In! curriculum kits are excellent resources that combine garden based learning and nutrition education with prewritten standards-based lessons and handouts.
Teaching in Nature's Classroom provides garden-based learning principles, best practices, and case study examples.
FoodCorps Montana Lessons: Developed by the 2015-2016 FoodCorps Montana service members, this curriculum aims to provide educators across Montana with a cohesive set of seasonal and culturally appropriate lessons that offer opportunities for students to have hands-on experiences with their food in the classroom, garden, and cafeteria. The lessons are free and available for anyone to use, but please register to use the FoodCorps Montana Statewide Curriculum. Click here for the curriculum folders.
Gardening with Children is a collection of resources, worksheets, and activities to introduce gardening to kids.
Composting:
Additional Garden Resources
There are many more resources than listed on this page to help grow a vibrant school garden. Here are a few sites and guides to help with the how-to of gardening.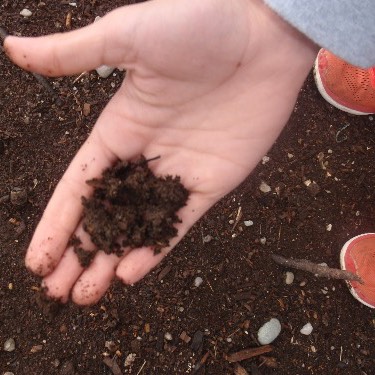 Cayuse Prairie School student inspects compost from Dirt Rich composting facility in Columbia Falls.