Policies & Expectations
The student Code of Conduct applies in all Residence Dining Commons. Inappropriate behavior or theft will not be tolerated.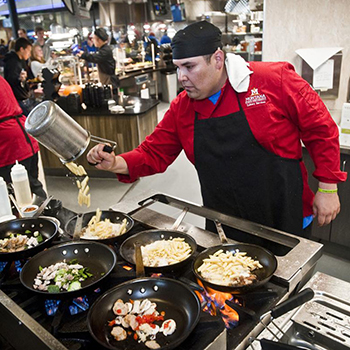 Hours & Admission
During the academic year with the exception of summer session, weekends and holidays, food will be served until 7:30PM. Please leave no later than 30 minutes after the dining halls' posted closing time. Do not attempt to enter the dining hall after it closes. Do not prop doors open to let other visitors in. Do not attempt to "just walk through" without paying or swiping your CatCard.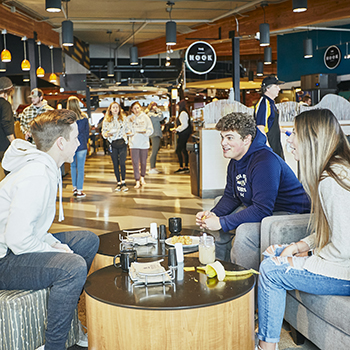 CatCard Usage
Using other people's CatCards to get into the dining hall is not permitted. Giving your CatCard to someone else to use to enter could result in your meal plan being revoked.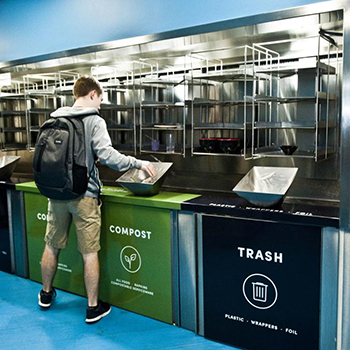 General Cleanliness
Please take dishes to the dish drop. Please pick up food, napkins, and silverware dropped on floor. Please inform employess and/or managers of spills or messes.
Exiting & Theft
Valid meal plan holders make take one bagel, piece of fruit, one ice cream novelty or dessert to go. Sandwiches, pizza, burgers and all other food items are not allowed to be taken out of the dining commons. Do not take any dining hall property out of the dining commons (i.e. dishes, silverware, napkin dispensers, salt/pepper shakers, condiments, etc.) Theft or distruction of dining hall property will not be tolerated.
Marketing and Solicitation
Printed & Digital Signs
Printed posters and table tents are not allowed in or around the dining halls.
Only registered MSU student organizations or candidates for MSU elected office, and MSU Offices and Departments may submit graphics for the digital displays at the dining hall entrances. Advertisements will be reviewed by Culinary Services to assure it complies with University policies, and reserves the right to deny any graphics that do not comply. Organizations may be given "blanket approval" for posting in the dining halls, but must follow all of the guidelines for posting set below.
Submissions must be emailed as a JPEG (1080 x 1920px and 1920 x 1080px) @72dpi to Carly Toalson.
Must submit advertisements at least five (5) working days prior to advertised event.
Advertisements making any mention of alcohol, drugs, or tobacco either implied or explicit will not be permitted or approved.
Advertisements will remain on the digital displays for a maximum of seven (7) days. MSU Departments may request an exception.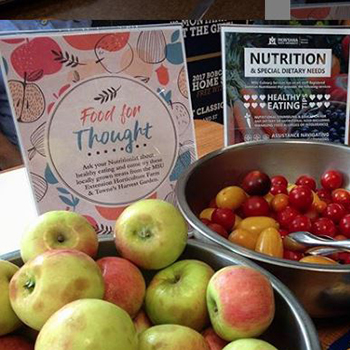 Information Tables
MSU University Student Housing and Culinary Services allow Registered Student Organizations and University departments to request a table in the entrances to Miller Dining Commons for the purpose of presenting information to students.
Registered MSU student organizations and University departments must request an information table with University Student Housing Life at least five (5) business days prior to the first day of tabling. University Student Housing reserves the right to deny information table requests that have not been submitted at least five (5) business days prior to the event.
A solicitation form must be submitted for all requests by student organizations and university departments.
Because of the popularity of tabling, and the possibility of multiple organizations wishing to table for the same reasons, tabling for one organization/department cannot occur more than two times per week and no more than a total of six times per semester. University Student Housing and Culinary Services reserves their right to restrict tabling to certain dates during the year.
All requests are subject to approval and scheduled on a "first come, first serve" basis.

Tabling will only be allowed at Miller Dining Hall (North & South entrances).

All Registered Student Organizations and MSU Department must present the signed request form they received via email to the University Student Housing main office (located underneath Miller Dining Hall) M-F 7:45am-5:00 pm.
Registered groups are expected to provide their own table and chairs. University Student Housing or Culinary Services staff will advise groups on the designated tabling locations.
If tabling will occur during business hours, registered groups can request a table from University Student Housing. If available, the table will be checked out when the group arrives and must be returned before 5pm on the day of tabling.
The registered group's name and purpose must be clearly stated and visible to students approaching that table.
Approved groups or individuals are allowed to table no more than four hours per tabling opportunity. Tabling may not start before 8 am and must be completed by 7pm.
Registered Student Organizations and/or MSU Departments are expected to remove any items including trash from the tabling location prior to leave. Items may not be stored overnight.
The Registered Student Organization or University Department approved for an information table may not:
Require students to stop at their table or physically attempt to stop them.
Require students to give their room, hall or telephone number to receive information or qualify for raffles, drawings, etc. If students willingly give this information, the registered student organization or university department may not provide this information to any other party.
Advertise or discuss alcohol, drugs, or tobacco with students.
Leave their table and approach students in other areas of the dining hall.
Call out to or harass students as they pass the table.
Impede foot traffic through the entrance to the dining halls or create any safety hazard or blocked exit.
Registered student organizations or departments that violate any University policy, and/or submit false information or misrepresentations in their requests and communications with any University personnel or resident, will be prohibited from future activities in any University Housing & Culinary Services areas and any permissions previously granted may be withdrawn.
Coupons & Canvassing
Distribution of coupons is not permitted.
To promote and enhance the safety, security and privacy of students living on campus, canvassing is prohibited in and around the dining halls.

Please contact Culinary Services at 406-994-2661 or [email protected] with any questions.
Meet our Team

Rendezvous Dining Pavilion

Drew Slade
General Manager

Rick Schneider
Executive Sous Chef

Anne Boland
Operations Manager

Mikkel Turney
Assistant Manager

Rob Strauch
Chef de Cuisine

Kevin Ball
Operations Manager

Stacie Metzger
Operations Manager

Matthew Whitaker
Assistant Manager
Miller Dining Commons

Mindy Jacobs
General Manager

Ben Jordan
Executive Sous Chef
Stephan Spencer
Operations Manager

Tony Weller
Operations Manager
Danielle Hatfield
Assistant Manager
Dan Kelley
Chef de Cuisine

Teryn Botti-Anderson
Operations Manager

Teresa Petersen
Operations Manager

Jason Kitchell
Assistant Manager
DISCLAIMER:
While Montana State University Culinary Services makes every attempt to accommodate students' individualized dietary needs, please be aware that all MSU Culinary Services' locations prepare items contacting egg, fish, milk, peanuts, shellfish, soy, tree nuts, and wheat. Every effort is made to safely prepare and serve foods but there is always a risk of cross contamination of allergens or gluten. In addition, there is always a possibility of cross-contact and suppliers and manufacturers may substitute or modify products at any time, without notifying us. Individuals with food-related dietary concerns should be aware of these risks. Questions about ingredients should be directed to a Culinary Services Manager. It is the responsibility of the individuals with food allergies or dietary concerns to make the final judgement about whether a food item is appropriate for them.