Gallatin County 4-H/FFA Market Livestock Sale
GALLATIN COUNTY 4-H/FFA LIVESTOCK MARKET SALE
Thank you to ALL of the Buyers that contributed to our 2023 Market Sale last year. We have remarkable 4-H
youth who take pride in their projects. To see them rewarded for their work continually inspires us to create even more opportunities for them to learn and grow. Thank you for all that you do to ensure that our program has the resources to be strong & successful into the future. As a Market Livestock Committee, we want you to
know how much we appreciate your outstanding support of our Gallatin County 4-H & FFA kids!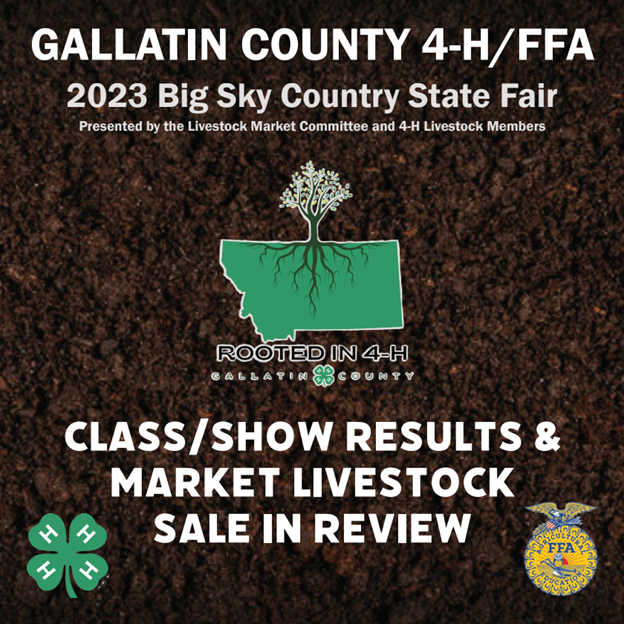 Click HERE to look inside the 2023 Thank You Tab!
SAVE THE DATE: FRIDAY, JULY 19, 2024
- Live, in-person bidding ONLY-
| | | |
| --- | --- | --- |
| | Add-On Pledge Form (Google form) | Proxy Buyer Form (DocuSign) |
| | Add-On Pledge Form (printable) | Proxy Buyer Form (printable) |
**2024 information coming soon
2023 4-H/FFA Livestock Auction Schedule
2:00pm – 6:00pm 4-H/FFA & Market Sale Buyers Check-in (Red Sale Pavilion)
3:00pm – 6:00pm 4-H/FFA Market Sale Buyer Appreciation BBQ Served (Small Animal Tent - adjacent to the AgWest Livestock Tent)
3:45pm 4-H Foundation Scholarship Winners Presented (AgWest Tent)
4:00pm – 12:00am (approx.) 4-H & FFA Livestock Market Sale (AgWest Tent)

Grand and Reserve Champions will sell first, then 10 animals per species by ribbon placing thereafter.
2023 Sale Order: Beef, Rabbits, Swine, Goats, Poultry, Sheep
How to Register and Check-In as a Buyer Instructions (2023)
If you have any questions you can contact us at: [email protected]
Information you will need to provide when registering as a Buyer for the Sale:
Buyer Name/Company Name
Contact Name – Who we will be talking with
Buyer Mailing Address, City, State and Zip Code
Buyer email address
Buyer Cell/Mobile Phone Number (no landlines please)
NEW BUYERS ONLY:
If you have never registered as a Buyer for our market sale, we encourage you to Pre-Register before Sale Day to make the Check-In process the night of the sale faster.
NEW BUYERS can Pre-Register via the link below through 12PM on Sale Day. The website will close at noon and any other new buyers will have to register in-person at the Red Sale Barn.

New Buyer Pre-Registration click here: 2023 NEW Buyer Pre-Registration Website - DEACTIVATED AS OF NOON ON SALE DAY
Click the red "Sign In" button, then select BUYER from the drop-down menu.

Select the "I am a new buyer or not listed above" option.

**If you are unsure if you have registered as a buyer in a previous year, click the drop down Buyer box on the screen and search for your name or business name.

Enter your information, click "Submit" and verify that your information is correct.
You're Registered!

ALL New Buyers will still need to come through the Red Sale Barn by the time the sale begins to receive your Sale Catalogs w/ Buyer Numbers & Buyer BBQ Tickets.
EXISTING BUYERS:
DO NOT pre-register online - it will duplicate your existing buyer information in our system.
Previous Buyers can simply Check-In at the Red Sale Barn on Sale Day beginning at 2pm.
ALL Existing Buyers will need to verify their contact information at the Red Sale Barn by the time the sale begins to receive your Sale Catalogs w/ Buyer Numbers & Buyer BBQ Tickets.
PARKING: Parking is available in the Tamarack St Lot (east end of fairgrounds) and with easy entry
through Gate A.
FAIR ENTRY TICKETS: Skip the fair ticket line and purchase your entry ticket prior to Sale Night through the Fairgrounds website: Gallatin County Fairgrounds Tickets (etix.com). Gate attendant will scan your ticket upon arrival at the gate. Due to concerts, the gate fees cannot be comped for the 4-H Sale.