Everything you need to know in preparation for the Big Sky Country State Fair
Save the Date: 4-H/FFA Fair Events will be July 13-21, 2024
Thank you to ALL of the Buyers that contributed to our 2023 Market Sale last year. We have remarkable 4-H
youth who take pride in their projects. To see them rewarded for their work continually inspires us to create even more opportunities for them to learn and grow. Thank you for all that you do to ensure that our program has the resources to be strong & successful into the future. As a Market Livestock Committee, we want you to
know how much we appreciate your outstanding support of our Gallatin County 4-H & FFA kids!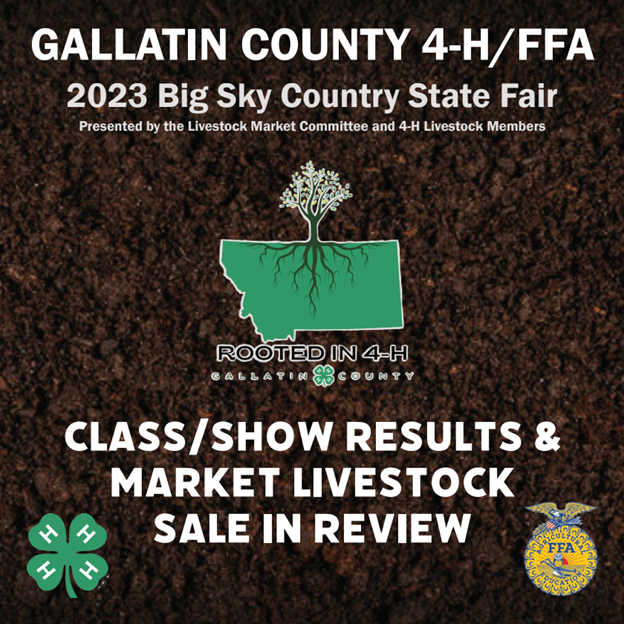 Click HERE to look inside the 2023 Thank You Tab!
*Fair information is uploaded and updated April-June for the current year
2024 Fair Theme: TBD

Big Sky Country State Fair Schedule and Information

Fair Registration

Fair Exhibitior Guide includes rules and examples of items to enter into fair.

Need help making sure you are ready for Fair? Follow our Are You Ready For Fair Checklist
Register for Fair by Friday, June 16, 2023 by 5pm


When you are ready to register for fair, use our online ShoWorks fair platform: 2023 Fair Registration Website

Click the red "Sign In" button, then select either Exhibitor (for one kid) or Quick Group (for families with multiple youth) from the drop-down menu. **Everyone will create a new account for this year's fair.
Exhibitor registration fees must be paid by June 28th by 5pm (via card online through ShoWorks or we accept card/cash/check at the Extension Office)

Requirements to Enter into Fair

1: Turn In Completed Record Books to Office

DUE: Wednesday, June 28, 2023 by 5pm

My 4-H- One per youth, per year.
Non-Animal Project Journal - if you are bringing a non-animal project to fair.
Animal Project Journal - if you are bringing an animal project to fair.
Project Workbook- Most all 4-H projects have a curriculum book issued through 4- H Office. (7 activities required each year)

Example Record Book and Record Book Video

2. Interview in each Department you are entering.

Livestock/Small Animal (Dog included) and Horse Project Interviews:

Thursday, July 13, 2023 4pm-8pm
Friday, July 14, 2023 4pm-8pm

Indoor Project Interviews & Exhibit Judging:

Monday, July 17, 2023 9am-5pm

3. **NEW** Record Book & Interview Scoring Process

Record Books: Upon turn-in of your Record Books, Project & Club leaders will sign, review and score your records based on completeness, content and project standards utilizing a record book rubric. (This will be your Record Book score).
Interviews: During the Project Interviews prior to Fair, a judge will evaluate members on their interview skills (eye contact, confidence, attire, ability to answer questions), their 4-H Year experience and project knowledge utilizing an interview rubric. (This will be your Project Interview score).
Composite Score: The Record Book score (max points = 72) and the Project Interview score (max points = 48) will be totaled together for a Composite Score (max points = 120).

Members with a Composite Score of 75% or higher will get nominated to be considered for a Project Award. Those nominated will be asked to re-turn in their completed Record Books in September for final review. Project Awards are presented at the end-of-year Awards Banquet.

Livestock & Small Animal Interview SignUp (not dog) Dog Project Interview SignUp Horse Project Interview Up SignUp

Indoor Project & Exhibit Interview SignUp

Community Members to be Fair Record Book Interview Judges

If you are interested in being a 4-H Project interview judge, please contact us at our office! (406) 582-3280 or [email protected]

Fair Admission

Discounted 4-H Youth Exhibitor Wristbands & 4-H Adult Week Passes

Available at the Extension Office and will continue to be sold through July 12th.

4-H Prices are listed below:(cash or check ONLY)

4-H Youth (exhibiting at fair) Week Wristband = FREE (youth exhibitors will receive a green 4-H wristband to wear during fair week)
4-H Adult Week-Passes = $20 each (immediate 4-H family members that will be at fair for the entire week)
Additional Youth (not exhibiting at fair) Week Wristband = $10 each
Day-Passes = $5 each (friends and extended family (grandparents, aunts/uncles, cousins, etc.) that come to support you during fair)

Carnival Wristbands are available through the Fairgrounds Website Link:

Gallatin County Fairgrounds Tickets (etix.com)

Fairgrounds Parking

4-H Parking Passes:

The Fairgrounds is very limited on parking spaces, therefore we are limited on how many parking passes we can disseminate to 4-H families.

4-H Parking Pass = FREE
We would like to keep 4-H Parking Passes to 1 pass per family if possible

**The Fairgrounds no longer gives out an extra parking pass to families with camping spots.

4-H Parking Passes are to be used in the West Annex/Camping Areas (Gate C)
We are encouraging all extra family members or any short-term parking to be in the free general public lots, Tamarack (Gate A) and Oak St (Gate B). Both can be used to come in for shows, loading in supplies and such. This year, the Tamarack Lot (Gate A) will be the one opening at 7am for early morning access and closer proximity to the showrings.

Market Livestock Auction Information

Friday, July 21, 2023

*New Start Time: Sale will begin at 4:00pm

*The 2023 Market Sale will be a live, in-person ONLY sale. There will NOT be an online component this year.

2023 Livestock Auction Schedule:

2:00pm – 6:00pm 4-H/FFA & Market Sale Buyers Check-In (Red Sale Pavilion)
3:00pm – 6:00pm 4-H/FFA Market Sale Buyers BBQ Served (Small Animal Tent)

Buyers BBQ is for registered Buyers ONLY.
4-H families, to ensure there is enough food for our buyers, please plan to find dinner elsewhere on sale night (4-H Cafe is a great option!)

3:45pm 4-H Foundation Scholarship Winners Announced (AgWest Tent)
4:00pm – 12:00am 4-H & FFA Livestock Market Sale (AgWest Tent)

Marketing Information and Resources:

Market Sale Buyers Guide (use Legal paper and printdouble sided on short edge and fold into trifold)

Proxy Buyer Form (Docusign) - deactivated

Proxy Buyer Form (printable) - deactivated

Add On Pledge Form (Google Form) - deactivated

Add On Form (printable) - deactivated

4-H Cafe & Concessions

Each 4-H youth is asked to help out in a very important way to help 4-H at the concession booth during fair. The money earned from the concessions is a large part of helping youth and volunteersattend events, fund projects and much more!

Your couple of hours is so helpful to making 4-H successful. Please check out the sign up in the link below.

2023 Concessions SignUp

Additionally, we have a few more needs for the Café this year!

Student Managers: We are looking for 2 student managers to aid and help the manager. Duties will include prepping food, cooking, cleaning, and managing.
Concessions Manager or Managers: Do you have a day or two or even the entire week to be a concessions manager? The concession stand will open Monday, July 17. Monday and Tuesday it will be open 8:00 am - 8:00 pm. Wednesday, Thursday, and Saturday it will be open 8:00 am - 11:00pm, Friday it will be open 8:00 am - around midnight. (Friday is Market Sale Night, so it will be open for the duration of the sale or until we run out of food.) Sunday, July 23, it will open at 8:00 am and will be done when everything is cleaned up and cleaned out, usually 7pm.
These positions have monetary compensation. Contact Shelly McPhee (

[email protected]

or 406-595-4774) for more information or if you are interested.

Booth Display Contest for Clubs and Individuals

2024 Fair Theme: TBD

Booth Display set-up times (Exhibit Building #3):

Divisions include:
1- Best use of fair theme/4-H promotion by a club or project group
2- Best use of fair theme/4-H promotion by an individual

4-H Promotion Booth & Educational Events

Please take a moment during fair to sit at our promotional booth in Exhibit Building #3. This booth is decorated to match our 4-H theme and has handouts and information to share with youth that are not currently enrolled in 4-H.



2023 4-H Promotional Booth SignUp

Silent Auction for Indoor Projects

If you would like to sell an indoor project, please make sure you inform staff when you interview for your indoor project(s).

Members can enter up to two exhibits into the Silent Auction.
The Silent Auction bidding will run from Wednesday of Fair Week starting at 11am through Sunday of Fair Week ending at 5pm.

Family Event Saturday evening

Join us Saturday, July 20th from 6pm to 8pm at the Livestock Show Tent for a night of fun!