At A Glance
A Welcome from the Dean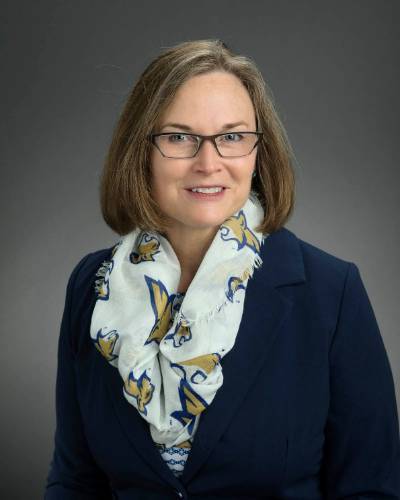 Welcome to the website for the College of Nursing at Montana State University. It is an exciting time to be a nurse! As the changes in our national health care system evolve, nurses will have greater opportunities to provide affordable, effective, evidence based care. The College of Nursing offers a variety of educational programs and learning opportunities that prepare our graduates for this exciting, rapidly changing world of health care. This website will provide you with information about those different programs as well as the college in general.
The college has four campuses and one outreach site where our baccalaureate program is offered. Educational experiences may vary among the campuses but are always excellent within a consistent curriculum. In addition to our traditional baccalaureate program, we offer an accelerated program on our Bozeman and Great Falls campuses to students who already have a degree in another discipline.
Our master's program prepares clinical nurse leaders. The doctorate in nursing practice program prepares family nurse practitioners and family psychiatric mental health nurse practitioners. Graduates of this program have expertise in primary care as well as in health policy, leadership, and systems thinking. All graduate classes are delivered using distance technologies.
Faculty in the college are not only excellent teachers but also active researchers. For example, they are testing interventions that could assist Native American children with advanced stages of tooth decay and the elderly with end-of-life decision-making. Patient safety, assisting individuals to better understand complementary and alternative therapies, plus studies on how to improve diagnosis and treatment of wounds are included in the college's research portfolio. From studies of the resilience of older adults with fibromyalgia pain to in-depth understanding of health care needs among Native Americans, College of Nursing faculty seek to better serve Montanans and those beyond, building a healthy future for all. The activities of our faculty scholars are supported by the Office of Research and Scholarship within the college.
Our students are high achievers and are well prepared for professional practice. Graduates of the baccalaureate program consistently pass the NCLEX licensing examination at a rate well above the national average as do our nurse practitioner graduates as they write the national certification exam.
This tradition of excellence has been in place for 75 years and we look forward to building on this success for the next 75 years. Whether you are a prospective student or faculty member, an alumus, or a friend of the College, I invite you to explore our website to learn more about the College. Please do not hesitate to contact us if you have any questions. We welcome the opportunity to talk with you more about the college and nursing as a career.
Sarah Shannon, PhD, RN, FAAN
Dean and Professor
The College of Nursing reflects MSU's core mission and intentional focus in three key areas.
The MSU-Bozeman College of Nursing was founded in 1937 and has received continuous national accreditation since 1949. Since its inception, the College has been a multi-campus program, making effective use of educational and clinical resources in the state. The College's administration is located on the main campus of MSU-Bozeman. Once accepted into the nursing major after three semesters of course work, students complete the major on one of the College's campuses located in the state's major population areas: Bozeman, Billings, Great Falls, Kalispell, and Missoula. With their greater population concentrations, these communities possess health care facilities that provide the degree of complexity, size and diversity of patient population needed for clinical nursing education.
As a multi-site program in a rural setting, the College meets a number of challenges related to maintaining program identity and quality in each location. At the graduate level, for example, accessibility is balanced with close supervision by combining distance education, "face-to-face" classes and on-site clinical supervision. Each of the College's campuses has resident faculty who serve both undergraduate and graduate students.

Mission, Vision, Core Values, Planning
Accreditation
The baccalaureate degree program in nursing, master's degree program in nursing, and Doctor of Nursing Practice program at Montana State University are accredited by the Commission on Collegiate Nursing Education (http://www.ccneaccreditation.org).
Quality Indicators of Nursing Programs
Two major indicators of the quality of a nursing program are:
• Pass rates on national licensing or certification examinations by graduates of a program; and
• National accreditation and state board of nursing approval of the academic programs of the school.
Graduates of the MSU-Bozeman College of Nursing undergraduate (BSN) program historically have passed the national licensing examination (NCLEX-RN) on the first try - well above national or state pass rates. Graduates who have earned the Master of Nursing (MN) degree or the Doctor of Nursing Practice (DNP) degree have passed their respective national certification exams at rates close to 100%. The undergraduate program has had continuous approval by the Montana State Board of Nursing since 1937 and has received continuous national accreditation since 1949. The graduate nursing program has been nationally accredited since its inception in 1957. The accreditation process evaluates the college in relation to national standards of excellence in nursing education. It is important to consider quality indicators when selecting a nursing program. Graduation from a nationally-accredited nursing program is preferred by employers and is required by graduate programs preparing students for advanced practice nursing.