Dear Bobcat parent and family members,
With longer days and hints of warmer weather, it's hard not to think of the upcoming summer. Whether your student is staying in Bozeman for the summer, returning home or planning further flung summer adventures, Summer Session at MSU is an excellent way for them to catch up or leap ahead in the pursuit of their degree. It is also an opportunity to explore a new area of knowledge.
MSU offers a variety of online and in-person summer classes, including the Bobcat 4x4, 6-week courses and 12-week courses. Your student can review available courses through the online Schedule of Classes. More information about the registration process is posted on the Summer Session Course Registration webpage.
This is a great deal: Don't forget that MSU also offers the Summer Edge program, through which eligible non-resident students can save up to $1,000 for a three-credit course. The discount is available for both graduate and undergraduate non-resident students. For more information, visit the MSU Summer Edge website.
You can find information about student financial aid options for the summer on the Office of the Registrar's Summer Financial Aid webpage. And you can find information about housing during the Summer Session on University Student Housing's Summer Housing webpage.
As the academic year ends, many of our students will be in transition with their housing. Unfortunately, with the annual residential shuffle comes the accumulation of unsightly curbside clutter along the streets in Bozeman. To address this problem, MSU teams up each year with the city of Bozeman for the "Don't Curb Your Crap!" program.
Throughout the entire month of May, MSU students can arrange for bulky items such as couches, mattresses or other large furniture to be picked up and disposed of for free. Beginning May 1, students can fill out a form on the city's website to arrange a pickup, confirm their enrollment, provide a description of the item and list its location. If your student is moving this spring, please encourage them to take advantage of this great program.
Last but certainly not least, we know that students are working hard for a solid finish to the semester. We hope they will set aside time for self-care, relaxation and unwinding. The Office of Health Advancement crew has organized Destress Fest for this week, April 24-28. This collection of events and programs offers students free snacks, fitness classes, movies and other stress-reducing activities (such as plate smashing!).
Several sessions of one of our most popular finals week programs, Paws to Destress with Intermountain Therapy Animals, are planned. Sponsored by the MSU Library, therapy dogs will be available on April 26 and 27 at the library for petting, hugs, secret sharing, photos and general good feelings. Handlers will accompany and watch out for the dogs and visit with the students.
Intermountain Therapy Animals' home office is in Salt Lake City, and the Bozeman group has been active for almost 25 years. Local teams include dogs and cats and sometimes a donkey. They visit nursing homes, assisted living facilities, libraries, schools, hospitals and other places where animals can provide comfort and companionship.
Sincerely,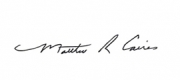 Matthew R. Caires
Dean of Students